Main content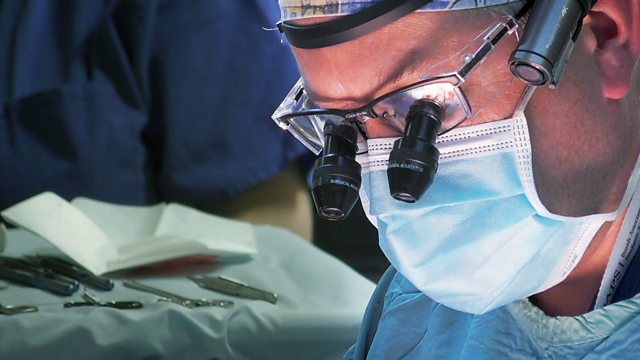 A New Beginning?
At Birmingham Children's Hospital, surgeons must transplant a kidney from a father to his two-year-old son, while a three-year-old girl needs a life-changing heart procedure.
In recent years, huge advances have been made in the surgical treatment of serious conditions that have developed in the womb. These groundbreaking interventions - often carried out in the first few years of life - have the power to dramatically increase life expectancy. But the risks are often high, and the surgeons who specialise in these procedures need to cope with the added pressure of wanting to get the best possible results for their patients' desperately anxious parents.
Birmingham Children's Hospital has a reputation as a world-leading centre for complex paediatric procedures. Consultant paediatric cardiac surgeon David Barron is a specialist in heart conditions that are diagnosed before birth, and his patient, three-year-old Madison, has a rare condition which prevents blood from reaching her lungs – giving her low blood-oxygen levels, and impeding her growth and the development of her organs.
To correct Madison's unusual anatomy, David must carry out an intricate 12-hour operation to reconstruct the blood supply between her heart and lungs. This is a rarely performed, multi-stage procedure that requires extraordinary stamina and skill on the part of the surgical team, and during which Madison's heart will be stopped altogether.
Madison's body has compensated for being born without a proper arterial connection carrying blood from her heart to her lungs by relying on a network of tiny vessels called MAPCAs. We all have these vessels to allow for circulation while we are in the womb, but normally they become redundant after birth. In the operation, David will have to locate the minute MAPCAs in Madison's chest and combine them with her malformed artery, in order to build a new connection between her heart and lungs.
A second surgical team is led by consultant paediatric urology and transplant surgeon Liam McCarthy – a specialist in conditions affecting the kidneys and bladder. Two-year-old Isaac's kidneys were damaged in the womb, and to avoid long-term dialysis, he needs a transplant. His father Lee is a match – so he will donate one of his healthy kidneys. He has never had doubts about that decision - after all, as he says, Isaac is "half of me", and this is a chance to make a drastic difference to the quality and length of his son's life.
They both undergo surgery on the same day. Lee's kidney is removed at the Queen Elizabeth Hospital Birmingham and rushed across the city to theatre at Birmingham Children's Hospital, ready for the transplant. Isaac's damaged kidneys will not be removed - instead, the donor kidney will be connected in an entirely new position, lower down in the abdomen. The challenge for Liam and consultant hepatobiliary and transplant surgeon Khalid Sharif is to fit this adult kidney safely into the body of a two-year-old, and to make the connections quickly, before the donor organ begins to degrade. If they succeed, they will dramatically improve the quality of Isaac's life and extend his life expectancy by many decades.
Birmingham Children's Hospital is part of Birmingham Women's and Children's NHS Foundation Trust.
Credits
| Role | Contributor |
| --- | --- |
| Executive Producer | Ruth Shurman |
| Executive Producer | Richard Bond |
| Producer | Nabila Hussein |
| Composer | Mat Davidson |
| Narrator | Shaun Dooley |
| Series Producer | Katharine Patrick |
| Director | Stuart Bernard |
| Production Manager | Debbie Vile |
| Production Manager | Louisa Hatfield |
| Production Company | Dragonfly Film and Television |