Main content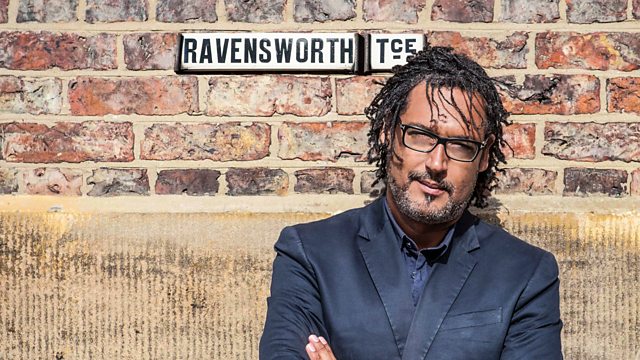 Episode 4
David Olusoga uncovers infidelity and divorce, traces a WWII prisoner to Ravensworth Terrace, and sees the house fall into disrepair before it is restored for the 21st century.
The final episode begins in 1946. The householders are John Walter and Florence Smyth. They live here with their daughter Myra and rent rooms to lodgers. A collection of family photos picture John Walter and Florence as a well-to-do couple who dote on little Myra. But there is another child in the photograph collection - an unidentified older girl pictured alongside Florence. David is keen to find out who she is.
Tracing Florence's family history, David discovers that John Walter is Florence's second husband. She was previously married to a man named John Thomas Clark with whom she had a daughter, Gladys. So David wonders if the mystery girl in the pictures might be Gladys. Further digging into John Thomas Clark reveals that his marriage to Florence ended in divorce, on the grounds that he had committed bigamy. Legal expert Rebecca Probert helps David unpack this case. After World War I, she explains, there was an explosion in bigamy cases. Many people who made hasty wartime marriages couldn't legally end them when the relationships went sour. Divorce law was strict and it was socially unacceptable to 'live in sin'. Bigamy was seen by many people as the only possible option, although it was still a crime. John Thomas Clark was sentenced to four months in prison.
After her divorce in 1926, Florence got custody of Gladys and went to work as a housekeeper in Ravensworth Terrace. Here she met John Walter Smyth - the man who became her second husband, and Gladys's stepfather. But sadly, Gladys died soon afterwards at the age of just 18.
Having solved the puzzle of the mystery photograph, David is keen to find out about the Smyths' lodgers. He begins by searching the records for a young couple called John and Ruby Bell, who lived in the house during the late 1940s, and had a baby there.
This child, John Bell Junior is still alive and living locally. David brings him to the house to see the place where he was born. John reveals that his father served in the army during World War II, but was captured and sent to a prisoner of war camp. Following this lead, David uncovers a series of diaries that John Bell Sr wrote while he was incarcerated – an extraordinary record of the life of a prisoner of war. John writes of disease, death, cold, boredom and above all, hunger. And as Professor Deborah Sugg Ryan discovers, prisoners were chronically hungry in the camps, scavenging for food and even licking flour off floors.
But John's circumstances worsened as the war drew to a close in 1945. He had been moved to a camp in the far east of Germany when the Soviets began to advance from the east. The Nazis decided to evacuate POW camps near the border and John joined over 120,000 Allied prisoners forced to march westward into Germany. This brutal journey came to be known as 'The Long March'.
David meets 97-year-old veteran of the Long March Harry Winter, who describes exhaustion, starvation and men frozen to death or shot by their German captors. John stayed alive long enough to be rescued by American troops and returned to Newcastle, where he met Ruby, his future wife.
The couple left the house in 1947, and the Smyths continued to rent rooms to local workers. At this time Newcastle's heavy industry was experiencing a postwar boom. But in 1959, after John Walter's death, the house was sold.
Tracking down the next owner of the house is difficult but David discovers that it was bought by the Salvation Army and converted into a Goodwill Centre, a drop-in facility for needy local people. At the time the postwar industrial boom was over, unemployment was on the rise, and poverty and social problems on Tyneside were rife. Captain Eileen Moffatt, who worked at the Centre, describes a busy place whose doors were always open.
But in the early 80s, the Salvation Army leaves Ravensworth Terrace and the house is put on the market again. This time, it is no easy sell. The house is run down, along with most of the surrounding neighbourhood, and lies empty for months. Eventually it catches the eye of local solicitor Ian Bynoe. While working in a demanding job in Legal Aid, Ian – with the help of a local architect – restores the original features and starts to bring the house back to its former glory.
Subsequent owners continue the restoration work, and as the house is reborn, the city of Newcastle also experiences a regeneration too. Through the 1990s and early 2000s, the quayside is reinvigorated, and Newcastle develops a reputation as a city of culture.
In 2015, current owners Damian and Suzi buy the house, knowing nothing of its former life. David tells them the story of some of its former occupants. The programme ends as the city of Newcastle honours one of the former residents of Ravensworth Terrace. A plaque commemorating the life of Joshua Alder, renowed marine biologist, is placed on the wall of the house.
Music Played
Timings (where shown) are from the start of the programme in hours and minutes
Credits
| Role | Contributor |
| --- | --- |
| Presenter | David Olusoga |
| Producer | Jonathan Rowlands |
| Executive Producer | Maxine Watson |
| Series Producer | Mary Crisp |
| Writer | David Olusoga |
| Composer | Paul Honey |
| Production Manager | Zarina Dick |
| Producer | Hugo Macgregor |
| Director | Hugo Macgregor |
| Expert | Deborah Sugg Ryan |