Main content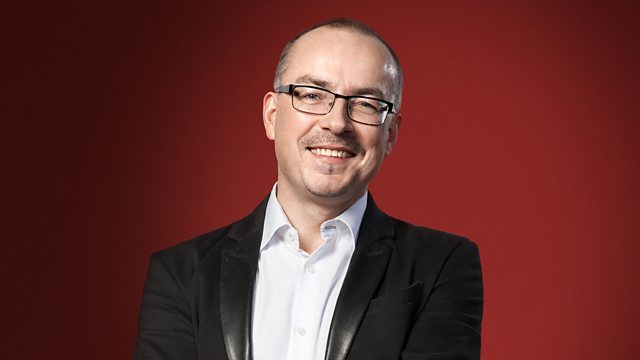 Andrew McGregor with Edward Seckerson and Harriet Smith
Latest recordings with Andrew McGregor, Building a Library on Gershwin's Porgy and Bess from Edward Seckerson, and new releases of chamber music from Harriet Smith.
with Andrew McGregor.
09.30
Building a Library: Edward Seckerson listens to and compares recordings of Gershwin's opera, Porgy and Bess.
Porgy and Bess is an opera by George Gershwin. First performed in 1935 it featured a cast of classically trained African-American singers. After a slow start, the work has gradually gained popularity, and it is now one of the more frequently performed operas.
The story tells of Porgy, a disabled black street-beggar and his attempts to rescue Bess from Crown, her violent lover, and Sportin' Life, her drug dealer. Some of the numbers in the opera, such as "Summertime", have become popular, frequently recorded songs. In recent times the trend has been toward productions more faithful to Gershwin's original intentions.
10.50
Andrew McGregor talks to Harriet Smith about recent releases of chamber music by Mozart, Schumann, Brahms and Britten.
11.25
Andrew chooses an outstanding new release as his Disc of the Week.
Record Review
9.00am

R. Strauss: Ein Heldenleben, Op. 40 & Also sprach Zarathustra, Op. 30
Oslo Philharmonic Orchestra
Vasily Petrenko (conductor)
LAWO Classics LWC1166

J.S. Bach: Goldberg Variations, BWV988
Arundo Quartet (ensemble)
Supraphon SU4261-2
https://www.supraphon.com/album/462250-bach-goldberg-variations

Paris Je t'aime
Choeur de l'Armée Française (choir)
Orchestre de la Garde Républicaine
Aurore Tillac (conductor)
Warner Classics 0190295484842

Mendelssohn: Piano Concerto No. 2, Op. 40 & Symphony No. 1, Op. 11
Kristian Bezuidenhout (fortepiano)
Freiburg Baroque Orchestra
Pablo Heras-Casado (conductor)
http://www.harmoniamundi.com/#!/albums/2515
9.30am – Building a Library – Edward Seckerson on Gershwin's Porgy and Bess
Composer: George Gershwin
Reviewer: Edward Seckerson
Recommended Recording:
Donnie Ray Albert (Porgy), Clamma Dale (Bess), Wilma Shakesnider (Serena), Carol Brice (Maria), Andrew Smith (Crown), Alexander B. Smalls (Jake), Betty Lane (Clara), Larry Marshall (Sportin' Life)
Houston Grand Opera
John DeMain (conductor)
RCA RD 82109

Other Recommended Recordings:
Willard White (Porgy), Leona Mitchell (Bess), McHenry Boatwright (Crown), Florence Quivar (Serena), Barbara Hendricks (Clara), Barbara Conrad (Maria), Arthur Thompson (Jake), François Clemmons (Sporting Life)
Cleveland Orchestra and Chorus
Lorin Maazel (conductor)
Decca 414 559-2
Willard White (Porgy), Cynthia Haymon (Bess), Gregg Baker (Crown), Harolyn Blackwell (Clara), Cynthia Clarey (Serena), Marietta Simpson (Maria), Damon Evans (Sportin' Life), Bruce Hubbard (Jake)
London Philharmonic Orchestra
Glyndebourne Chorus
Simon Rattle (conductor)
EMI CDS 49568-2

10.20am – New Releases
Buxtehude: Membra Jesu nostri
Maria Keohane, Hanna Bayodi-Hirt (sopranos)
Carlos Mena (alto)
Jeffrey Thompson (tenor)
Matthias Vieweg (bass)
Ricercar Consort
Philippe Pierlot (direction)
Mirare MIR444
https://www.mirare.fr/album/buxtehude-membra-jesu-nostri

Grażyna Bacewicz: Piano Music
Morta Grigaliūnaitė (piano)
Piano Classics PCL10183
https://www.piano-classics.com/articles/b/bacewicz-piano-music/

Leopold Mozart: Missa Solemnis
Arianna Vendittelli (soprano)
Sophie Rennert (alto)
Patrick Grahl (tenor)
Ludwig Mittelhammer (bass)
Das Vokalprojekt
Bayerische Kammerphilharmonie
Alessandro De Marchi (conductor)
Aparte AP205
http://www.apartemusic.com/discography/leopold-mozart-missa-solemnis/


10.49am – New Releases – Harriet Smith's chamber music


Schumann: Complete Piano Trios
Horszowski Trio
AVIE AV2405
http://www.avie-records.com/releases/schumann-complete-piano-trios/

Mozart, Brahms, Mahler
Skride Piano Quartet
Orfeo C946191
https://www.orfeo-international.de/pages/cd_c946191_e.html         

Fauré, Debussy, Szymanowski, Chopin
Bomsori Kim (violin)
Rafal Blechacz (piano)
DG 483 6467
https://www.deutschegrammophon.com/gb/cat/4836467

Britten: String Quartets, etc.
Doric Quartet
Chandos CHAN 20124
https://www.chandos.net/products/catalogue/CHAN%2020124



11.20am – Record of the Week


Chausson: Poème de l'amour et de la mer & Symphonie, Op. 20
Véronique Gens (soprano)
Orchestre National de Lille
Alexandre Bloch (conductor)
Alpha ALPHA441
https://outhere-music.com/en/albums/chausson-poeme-de-l-amour-et-de-la-mer-symphonie-op-20-alpha441