Main content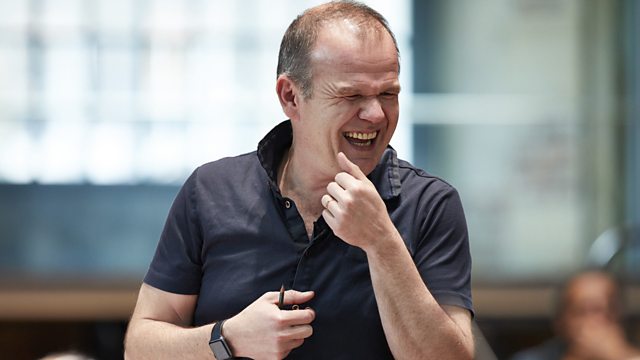 Spanish Obsession
Francois-Xavier Roth conducts the LSO in an all-Ravel, Spanish-themed concert including Rapsodie espagnole, Bolero and the delightful one-act comic opera, L'heure espagnole.
For the sophisticated French of Maurice Ravel's generation, the country on the other side of the Pyrenees was excitingly exotic. But with his Spanish roots, Spain meant more to Ravel than toreadors and tapas, and inspired some of his most memorable music.
Tonight's programme brings together a clutch of Ravel's Spanish-themed works, showing the wide-ranging inspiration he gained from the country of his mother's birth, including his famous one-tune wonder Boléro and the delightful single-act comic opera L'heure espagnole set in 18th-century Toledo, a tale of a clockmaker, his frisky wife and her gentleman friends.
Recorded last week at the Barbican Hall and introduced by Martin Handley
Ravel: Rapsodie espagnole
Ravel: Boléro
London Symphony Orchestra
François-Xavier Roth (conductor)
8.20pm
Interval music (from CD)
Ravel: À la manière de Chabrier
Chabrier: Habanera
Debussy: La soirée dans Grenade (Estampes)
Alain Planès (piano)
Albeniz Granada (Suite espanola No. 1)
Alicia de Larrocha (piano)
8.40pm
Ravel: L'heure espagnole
Isabelle Druet.......Concepción (mezzo-soprano)
Jean-Paul Fouchécourt.......Torquemade (tenor)
Thomas Dolié.......Ramiro (baritone)
Edgaras Montvidas.......Gonzalves (tenor)
Nicolas Cavallier....Gomez (bass baritone)
London Symphony Orchestra
François-Xavier Roth (conductor)
L'heure espagnole - Synopsis
Toledo. The clock shop of Torquemada.
Clocks of various shapes and sizes stand around Torquemada's shop, striking pleasantly. The muleteer Ramiro comes in to have his watch mended. Torquemada's wife Concepción enters to remind her husband it is time for him to regulate the municipal clocks. She complains that he has not placed one of the two grandfather clocks in her room, as requested. It's too heavy to move, he responds. He asks Ramiro to await his return while he goes about his business. 
Concepción and Ramiro stand looking at one another. She hints at having the clock carried to her room. Nothing easier, says the muscular muleteer. As he takes it upstairs, Gonzalve is heard arriving. 
Concepción's lover is a poet who waxes lyrical as they prepare to fling themselves into each other's arms. On his reappearance she thanks Ramiro. To get rid of him again, she asks him to move the other clock upstairs, bringing the first one back. While he goes back upstairs to retrieve the first clock, Concepción shoves Gonzalve into the second. 
Suddenly the banker Don Íñigo turns up, enquiring after Concepción's husband. It was he, he admits, who appointed Torquemada to the job of looking after the town's clocks to get him out of the way. He tries to take Concepción's hand. The return of Ramiro with clock number one saves her. Ramiro picks up the second clock (containing Gonzalve) without difficulty. Concepción is impressed and follows him upstairs. 
Left alone, Íñigo decides he would improve his image as a playful lover by hiding in the remaining clock. As he does so Ramiro reappears, charged by Concepción with minding the shop. Suddenly she returns, complaining at the upstairs clock's noisy innards. Would Ramiro kindly bring it back down? He instantly obliges. 
Íñigo declares his love to Concepción. She begins to see his potential. Ramiro returns with the first clock (containing Gonzalve) and offers to take up the second (containing Íñigo). Concepción accepts his suggestion. Opening the first clock, she tries to dismiss Gonzalve, who is reluctant to leave. She deserts him and he retires into his clock as Ramiro returns. He looks around the shop with admiration; if he were not a muleteer, he would like to be a clockmaker. As Concepción returns, he divines her unhappiness with the second clock and goes to retrieve it. 
Left alone, Concepción expresses dissatisfaction with both her lovers. 
As Ramiro returns yet again, she appreciates his physical strength. She sends him back to her room – this time without a clock to carry – then follows him. 
Íñigo and Gonzalve peep out of their hiding places, shutting themselves back in as Torquemada returns. He apologises for keeping them waiting. Noting their interest in the insides of the two clocks, he insists that they buy them. Ramiro and Concepción return and all join in the moral: in the pursuit of love, there comes a moment when it's the muleteer's turn. 
- With thanks to Glyndebourne Opera Festival.
Featured in...
We broadcast more live and specially-recorded concerts and opera than any other station.