Main content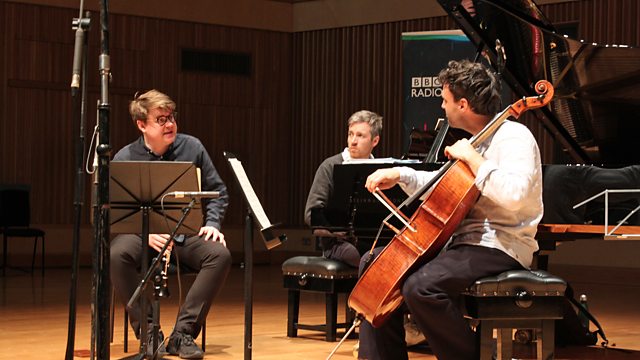 Introducing Mark Simpson and Friends
The Radio 3 Big Chamber Weekend from Saffron Hall in Essex presents Mark Simpson and Friends. Today Mark Simpson performs clarinet trios by Beethoven and Brahms plus his own music.
Tom McKinney presents the Radio 3 Big Chamber Weekend recorded at Saffron Hall in Essex, which brings the composer and virtuoso clarinettist Mark Simpson together with his friends in some of the music he loves best, played alongside his own chamber-music works. Today, he plays Beethoven and Brahms clarinet concertos with cellist Leonard Elschenbroich and pianist Richard Uttley, plus two of his own works for clarinet and piano solo.
Mark Simpson is a former BBC Young Musician of the Year and Radio 3 New Generation Artist.
Presented by Tom McKinney.
BEETHOVEN
Trio in B flat, Op.11
Mark Simpson (clarinet)
Leonard Elschenbroich (cello)
Richard Uttley (piano)
SIMPSON
Lov(escape)
Richard Uttley (piano)
SIMPSON
Barkham Fantasy
Richard Uttley (piano)
BRAHMS
Trio in A minor Op.114 for clarinet or viola, cello and piano
Mark Simpson (clarinet)
Leonard Elschenbroich (cello)
Richard Uttley (piano)
Elizabeth Arno (producer)