Main content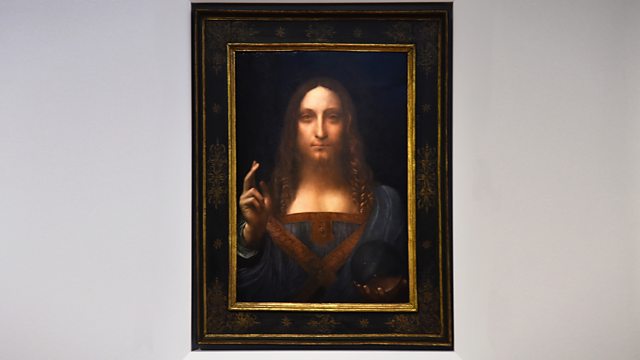 Leonardo da Vinci 500th Anniversary, Salvator Mundi
On the eve of the 500th anniversary of his death, Front Row discusses the art, legacy and enduring mysteries of Leonardo da Vinci.
Ben Lewis talks about his book The Last Leonardo, about the world's most expensive work of art, the painting Salvator Mundi. Authenticated as a Leonardo in 2011, he examines its journey from Leonardo's workshop in Milan through to the present day and explains why he has doubts about its authenticity.
Art critic Waldemar Januszczak and editor of The Art Newspaper Alison Cole assess Leonardo's extraordinary art and legacy, from the Mona Lisa to The Last Supper.
One of the UK's foremost vocal ensembles I Fagiolini talk about and perform live from their new album, Leonardo - Shaping the Invisible, in which they have matched Leonardo da Vinci's artworks with vocal masterworks, illuminating his images through the prism of music.
Presenter: John Wilson
Producer: Edwina Pitman
Leonardo da Vinci 500th Anniversary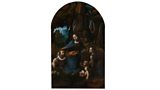 Images:
Main image above: Salvator Mundi by Leonardo da Vinci
Image credit: Ilya S. Savenok/Getty Images
Image to the left: Leonardo da Vinci  1452 - 1519
Infant Saint John the Baptist adoring the Christ Child accompanied by an Angel
(The Virgin of the Rocks)  Panels from the S. Fancesco Altarpiece, Milan
about 1491/2-9 and 1506 -8
oil on paper 189.5 x 120 cm
Image credit: The National Gallery
Salvator Mundi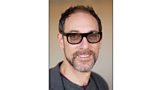 I Fagiolini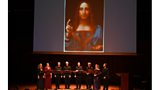 I Fagiolini 's CD Leonardo: Shaping the Invisible is available now.
I Fagiolini's 2019 tour is on going, and here are some of the dates:
02 May - St George's Bristol
01 June - Purbeck Arts Week, Dorset
27 July - Petworth Festival, West Sussex
Image: I Fagiolini performing Shaping the Invisible
Image credit: Mark Allan/Barbican