Main content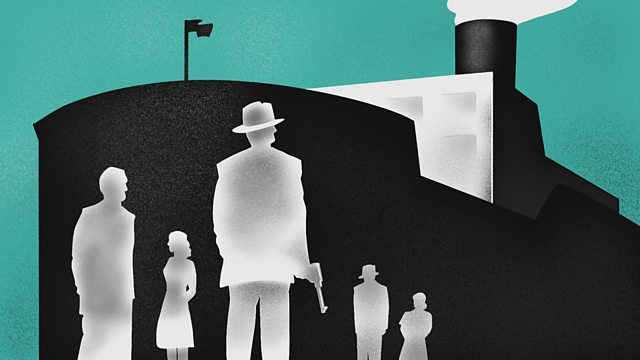 Journey into Fear (Part 1)
In the build-up to war, arms expert Alec Graham has become a high-value target. Can he get home from Istanbul in one piece? Daniel Rigby stars in Eric Ambler's wartime thriller.
By Eric Ambler
Adapted by Nick Perry
As clouds of war gather over Europe, Alec Graham, a mild-mannered arms expert, is in Istanbul, having just completed consultation work with the Turkish government. And now somebody wants him dead. Shots are fired at Graham as he steps into his hotel room, so, terrified, he escapes in secret on a boat bound for Genoa, from where he will take a train back to England. As he journeys home, he enters a dangerous world and struggles to distinguish friend from foe.
Part of the Eric Ambler season on BBC Radio 4, which also includes a two-part adaptation of Epitaph for a Spy, and a biographical drama about Eric Ambler and Hollywood director John Huston's collaboration on war film The Battle of San Pietro.
Eric Ambler's pre-war novels remain the base upon which his reputation rests. Fresh and exciting, they laid out the ground for writers such as Le Carré and Deighton. During the years before WWII, Ambler created the image of the modern spy. He was hailed by Graham Greene as ''our greatest thriller writer''.
These are novels of education. The protagonist typically thinks of himself as a skilled reader of personality and motive - and then gets everything wrong. Ambler thrusts his hapless heroes - teachers, engineers and writers - into a world of political intrigue. Set mostly in Europe, the novels paint haunting panoramas of intrigue and villainy. Credible heroes, realistic settings and vivid evocations of the nervous, politically-charged years that led to World War II, evoke the queasy atmosphere and conspiratorial politics of 1930s Europe.
Alec Graham . . . Daniel Rigby
Berlinsky . . . Simon Scardifield
Jose . . . Simon Scardifield
Dr Haller . . . Matthew Marsh
Josette . . . Olivia Ross
Mr Kuvetli . . . Atilla Akinci
Colonel Haki . . . Raad Rawi
Mme Mathis . . . Carolyn Pickles
Mathis . . . Sam Dale
Steward . . . Ronny Jhutti
Director . . . Sasha Yevtushenko
Dramatist . . . Nick Perry
Last on
Broadcasts