Main content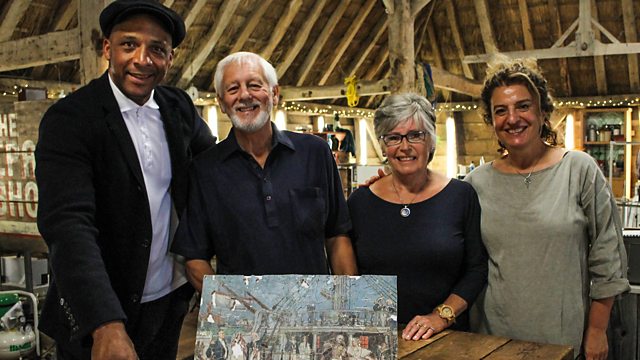 Episode 17
Jay Blades and the team tackle a concertina that survived combat in World War I, a vintage jigsaw, and a cocktail table with a surprising secret compartment.
97-year old Audrey is the owner of a beautiful vintage concertina dating from the late 19th century, which once belonged to her grandfather Hubert. Hubert volunteered for service at the outbreak of the First World War and was sent to France, where between combat he would entertain the troops with his trusty concertina. After the war, the concertina remained a family favourite, and Audrey has many fond memories of her grandfather entertaining her with it. But with leaky bellows and broken reeds, it hasn't played a tune in decades. Accordion restorer Roger Thomas has a serious job on his hands to get the concertina working again, and to bring the memories flooding back for Audrey.
Fine art conservator Lucia Scalisi and furniture restorer Will Kirk team up for the repair of a beautiful hand-cut jigsaw, which is an important family heirloom but is now dirty and dishevelled, with several pieces missing altogether. Will sets to work recreating each missing piece, before Lucia carefully paints in the picture on each one, using an ancient technique involving, of all things, freshly cracked eggs.
And Jenny Harvey from Essex brings in a polished wooden cocktail table with a secret compartment that any spy would be proud of – if only it actually worked as it did in its heyday. Can mechanical whizz Steve Fletcher figure out how the unique mechanism operates and get this piece of 1950s nostalgia functioning once again?