Main content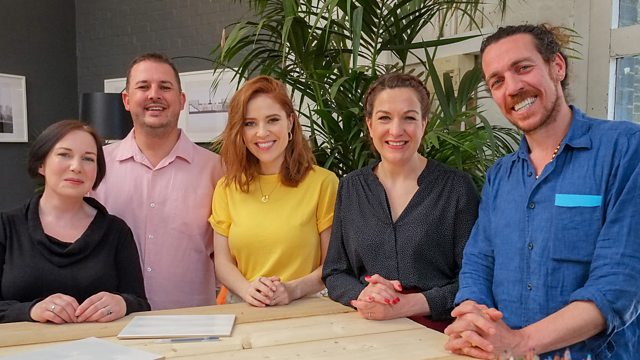 Episode 2
Two rival architects aim to solve a problem that has had a couple from Kent locked in stalemate for five years, using cutting-edge virtual reality to showcase their designs.
Imagine stepping inside your home, but suddenly it is transformed beyond your wildest dreams. Angela Scanlon presents this new property makeover series where cutting-edge virtual reality and visual effects enable people to see what the future of their home could look like, before building it in reality.
Never before have plans come to life like this: people can instantly explore a stunning transformation of their bedroom, walk around an incredible double-height kitchen or see how adding a gigantic picture window will turn a dingy lounge into a stunning sitting room with a massive wow-factor. In each episode, a family will be presented with two radically different designs by two extraordinary architects - before we discover which they have chosen to build in reality.
39-year-old James and 40-year-old Vicky have lived in their 1970s detached house in Kent for five years with their two young children. Bought for the large garden, they have since discovered the house is completely impractical for family life. Like homes across Britain it has been chopped and changed making the space disjointed. The divided layout is taking its toll on family life. James and Vicky agree they need to rethink their home, but that is all they agree on! Working to a healthy budget of £100k, can our two rival architects finally solve the problem that has had James and Vicky locked in stalemate for five years?
Laura Jane Clark specialises in domestic architecture and believes our homes are integral to our relationships. Robert Jamison draws inspiration from around the world and tries to capture those influences in his work.
At the design studio, James and Vicky get the extraordinary opportunity to actually step inside the visions thought up by the two architects by using virtual reality – Robert is first.
In front of James and Vicky's eyes the existing walls cascade into the floor to reveal a spectacular open plan kitchen/diner. A window forms in the west wall, allowing warm light to spill into the new space and the previously gloomy lounge is reimagined as a snug.
Next up Laura focuses on creating a wide inviting hall, sweeping into a massive open plan kitchen with bi-fold doors opening directly onto the garden. She skillfully zones the open plan space to create areas for rest, play and dining.
James and Vicky are blown away by Laura and Robert's visions and now face the difficult decision of which one to build in reality. The final, and most important reveal is still to come. Angela and the chosen architect travel to see what James and Vicky have actually built and the result is sensational. Rivalling the extraordinary digital reveals, the house is breath-taking. James and Vicky are delighted, and the transformation has unified the family, delivering something better than they ever could have ever dreamed of.
Clips

Music Played
Timings (where shown) are from the start of the programme in hours and minutes
Credits
| Role | Contributor |
| --- | --- |
| Presenter | Angela Scanlon |
| Series Producer | Sarah Knight |
| Expert | Laura Jane Clark |
| Series Producer | Zoe Page |
| Expert | Robert Jamison |
| Executive Producer | Kitty Walshe |
| Executive Producer | Joff Wilson |