Main content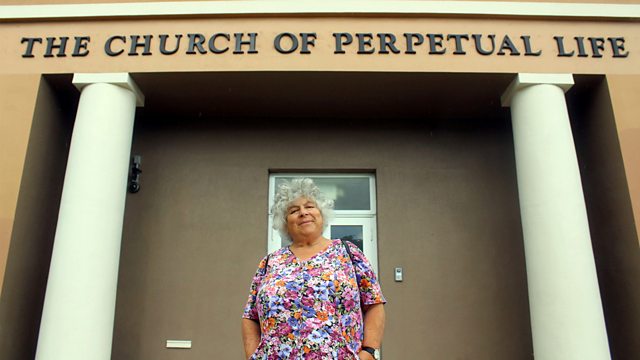 Miriam Margolyes is on a mission to confront her fear of aging and death. Miriam checks into a dementia care home, to see what getting old might actually look like.
Inimitable actress Miriam Margolyes is rather terrified of death. In this thought-provoking and entertaining documentary series, she is on a mission to confront her fear of aging and death, and tackle our greatest taboo - our own mortality. With her unique mix of charm, cheek and intellectual curiosity, Miriam is travelling through the UK, Europe and America, taking an unflinching look at different approaches and attitudes to dealing with death.
In episode one, Miriam checks into Wren Hall, a dementia care home, to see what getting old might actually look like. With average life expectancy for women in the UK at 82, Miriam, 77, knows statistically she hasn't got long left, and the chances are, like most of us, she will end up in a home. She meets Geoff, who visits his wife June every day following her stroke six years ago. June's condition means she can only repeat a few phrases, and Miriam sees the love in their relationship hasn't died but wonders if there are any other real alternatives to facing the inevitable decline.
Terrified and chastened, she heads to America to meet people who believe that soon we will not only be able to 'cure aging' but with radical medical and technological advances we could actually 'defeat' death, enabling us to live forever.
In California, Miriam heads to RAAD Fest - the world's largest gathering of life enthusiasts. The Revolution Against Ageing and Death festival attracts thousands of people, with some going to extreme and even dangerous lengths to prevent ageing and prolong life. Miriam discovers a growing industry of people selling the secrets of how to stay alive long enough to live forever - from secretly developed Russian 'tissue normalising' pills to human battery chargers and even plastic 'pocket rockets' to increase frequent orgasm and increase the chances of radical life extension. Rather than meeting a 'bunch of crackpots' as she expected, Miriam starts to wonder whether maybe we are the ones who have got it all wrong and life doesn't have to be so final after all.
Pioneers of the super longevity movement are the eerily youthful 82-year-old Bernadene and cryotherapy enthusiast Jim. At their monthly meeting in Arizona, Miriam sees a growing community of people who are trying to achieve 'unlimited lifespans' by thinking and feeling differently about how we deal with death. In his -140-degree Celsius cryo chamber, Miriam learns of Jim's philosophy that rather than waste our lives because we all think death is inevitable, why not aspire to immortality and improving the world with our wisdom? Energised but not entirely convinced, Miriam wonders if technology and a different mental attitude aren't the only ways to stave off death.
Loma Linda, near San Diego, is one of the world's five 'Blue Zones' - longevity hotspots where people live longer than anyone else on earth and residents survive ten years longer than the average American. It is also home to over 9,000 Seventh Day Adventists – strict believers in healthy living and a devotion to God. Miriam joins 71-year-old Marijke at water aerobics – part of her daily three-hour exercise regime. Surrounded by hundreds of sprightly pensioners, all preaching the gospel to fitness and Jesus, Miriam next accompanies Ida to her experimental laughter therapy session at Loma Linda's medical university.
According to university professor Dr Berk, laughter really is one of the best medicines when it comes to helping us stay healthy. In one of the research labs, hooked up to a brain scanner, pensioner Ida is in hysterics watching a series of comedy clips as Dr Berk's team measure her neurological activity. It is good news – Ida's brain is buzzing with positive frequencies, which helps reduce the stress hormone cortisol that attacks our immune system. The net result, he concludes, means laughter helps us stay healthier and in theory live longer.
But not everyone wants to laugh their way to long life. For some, the answer to super-longevity is found in science. At the Church of Perpetual Life in Florida, Miriam meets founder Bill Falloon. His church doesn't involve God but rather a devotion to supplements that may keep you alive long enough to allow you to benefit from scientific breakthroughs that will lead to immortality. But they don't come cheap, and Miriam begins to wonder whether fighting death and achieving a healthy never-ending old age is beyond the pockets of most, and what this means for those who can't afford it. Miriam discovers that for the homeless in America, living beyond 50 is statistically unlikely. Keen to see what death looks like for people with nothing, she visits the unmarked graves a pauper's cemetery just outside Phoenix.
Returning to the UK humbled, Miriam heads back to Wren Hall. Geoff's invited her to a party, where she soon realises that while the privileged busily fret about extending their lives, for most people, the best way to deal with death is to make the most out of life.
More episodes
Previous
You are at the first episode
Music Played
Timings (where shown) are from the start of the programme in hours and minutes
Credits
| Role | Contributor |
| --- | --- |
| Presenter | Miriam Margolyes |
| Executive Producer | Alicia Kerr |
| Series Producer | Simon Draper |
| Production Manager | Kathleen Shannon |
| Executive Producer | Paul Hamann |
| Editor | Gwyn Jones |
| Production Company | Wild Pictures |
Featured in...
A collection of programmes exploring the work of Doctors, Nurses and health professionals.