Main content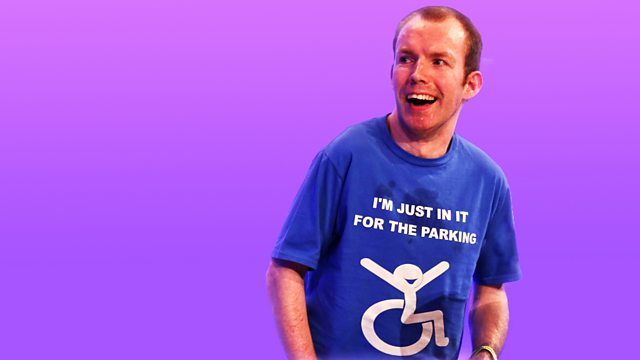 Matt (Lost Voice Guy) and his best mate Jess join his parents for a weekend away. Matt contrives that he and Jess have to share a bed. Surely this will do the trick?
Matt is 25. He has cerebral palsy and can only speak via an app on his iPad. Everyone who cares about Matt knows that this isn't the defining thing about him. He is funny and clever and "up for stuff" - partly because he is keen to show that there's nothing he can't do, but also because, if he's honest, he's aware that he's less likely than other people to get the blame.
In this second series of the award nominated comedy, Matt is still sharing a flat with his best mate, Jess. He is still in love with her but, much as she likes him, she is still not in love with him. She does however, fancy Matt's rubbish carer, Bob (Allan Mustafa). Well just a tiny bit anyway. Not that she would ever admit it. After all, Bob is even more lazy and useless at most things than she is.
But Bob is willing. And although domestic duties are not really his forte, he likes Matt and treats him like a real person. And over the last year or so the three of them have been through a lot together - well a lot of drinking and hangovers anyway.
Ability is the semi-autobiographical co-creation of the 2018 Britain's Got Talent winner, Lee Ridley, otherwise known as Lost Voice Guy. Like his sitcom creation, Lee has cerebral palsy and can only speak via an app. He is - probably - the first stand up comedian to use a communication aid. Prior to BGT, Lee won the BBC New Comedy Award in 2014, has written and performed four full Edinburgh shows and has just completed a major sell out tour of the UK.
Katherine Jakeways, the co-creator and co-writer of Ability, is a multi-award nominated writer. She has written North by Northamptonshire, Guilt Trip and All Those Women for BBC Radio 4 as well as numerous radio plays. She has also written for Crackanory and The Tracey Ullman Show for TV.
The series is set in Newcastle and many of the cast last played together as children in Biker's Grove.
Cast includes:
Matt............Lee Ridley – aka Lost Voice Guy
Bob..............Allan Mustafa
Jess..............Sammy Dobson
Matt's Inner Voice.............Andrew Hayden-Smith
A Funny Bones production for BBC Radio 4