Main content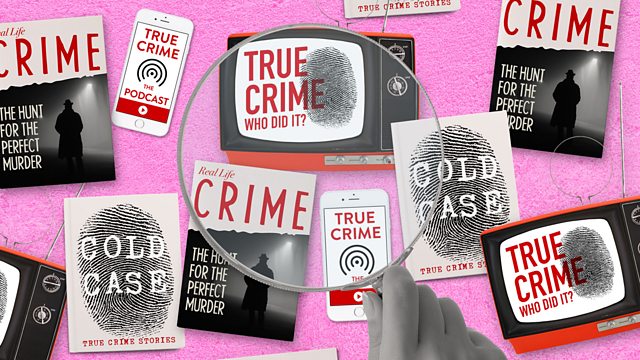 True Crime Under Investigation
Jane Garvey talks to a true crime magazine editor, podcast host, criminologist and ex-police officer about our obsession with true crime.
We are currently experiencing a boom in true crime, with countless TV documentaries about cases like the Yorkshire Ripper, the murder of Jill Dando, the disappearance of Madeleine McCann and podcasts such as Serial, The Teacher's Pet and My Favourite Murder. Not only are women usually the victims of these infamous crimes, but they are also the main consumers of the genre. So why are we so fascinated by true crime? Jane speaks to criminologist Dr Gemma Flynn, ex-police officer and Crimewatch presenter Jacqui Hames, All Killa No Filla podcast host Rachel Fairburn and to magazine editor Julia Davis, whose latest title Crime Monthly hit the news stands last month.
What is the appeal of reflecting on the grisly detail of violent crime? And how do we ensure that the victims and survivors are not ignored in the clamour to analyse a killer's motives or pathology? Jane speaks to Mo Lea who survived a brutal attack for which Peter Sutcliffe is the prime suspect, and to Carol Ann Lee who has written the book Somebody's Mother, Somebody's Daughter which highlights the stories of the women who's lives were devastated by Sutcliffe.
Presenter: Jane Garvey
Producer: Laura Northedge
Interviewed Guest: Dr Gemma Flynn
Interviewed Guest: Julia Davis
Interviewed Guest: Jacqui Hames
Interviewed Guest: Rachel Fairburn
Interviewed Guest: Mo Lea
Interviewed Guest: Carol Ann Lee