Main content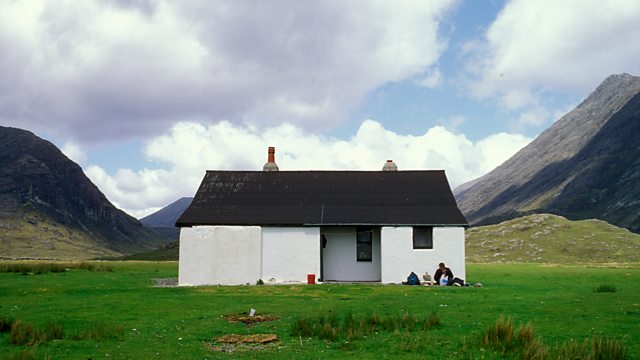 Life in the wilderness
Kirsty Wark with biographer Dan Richards, theatre director Rebecca Frecknall, Icelandic shepherdess Heida, and Financial Times journalist Sarah O'Connor.
We underestimate how difficult it is to live in remote areas, says travel writer Dan Richards. He tells Kirsty Wark how he trekked to high mountain huts and distant snowy cabins for his new book, Outposts. Richards followed in the footsteps of Virginia Woolf, Roald Dahl and Jack Kerouac, who all found inspiration in the wilderness. But just as Kerouac went temporarily mad living on a remote mountainside, so today's tourists in the Scottish Highlands and Nordic isles underestimate "hard nature's indifference".
Icelandic model turned sheep farmer Heida Asgeirsdottir knows how challenging countryside life can be. After an early career as a model in New York, she returned to Iceland to take over her parents' sheep farm in a region of volcanoes and elemental storms. But even this distant region needs modern power and infrastructure, and this means a new hydro-electric plant whose owners want to flood her farm.
A family feel stuck in the middle of nowhere in Chekhov's searing play Three Sisters. Rebecca Frecknall is directing a new production at the Almeida Theatre, exploring the thwarted ambitions and dreams of a provincial Russian town. Sisters Irina, Olga and Masha long to return to Moscow, but become bogged down in dead-end jobs and trapped by mortgages and marriage.
Chekhov's play could easily be set in a British town today, says Sarah O'Connor from the Financial Times. She looks at the stark problems facing our seaside resorts and post-industrial towns. In her Orwell Prize-winning study of Blackpool, she challenged the idea that our seaside towns lack aspiration and are destined to fail. Now she explains why terms like "the Left Behinds" are dangerously misleading.
Producer: Hannah Sander
Last on
Dan Richards
Dan Richards is a writer.
Outpost: A Journey to the Wild Ends of the Earth is published by Canongate
Heiða Ásgeirsdóttir
Heiða Ásgeirsdóttir has worked as a model, police-officer and politician. She took over the running of her parents farm aged 23 and has been farming on her own for 17 years now. She has represented Iceland in several sheep shearing competitions.
Heida – A Shepherd at the Edge of the World, by Steinunn Sigurðardóttir is published by Hodder
Rebecca Frecknall
Rebecca is Associate Director at the Almeida Theatre
Chekov's Three Sisters, directed by Rebecca Frecknall at the Almeida Theatre until 1st June
Sarah O'Connor
Sarah O'Connor is an investigations correspondent for the Financial Times. She also writes a fortnightly column for the opinion section on the world of work. 
Broadcasts