Main content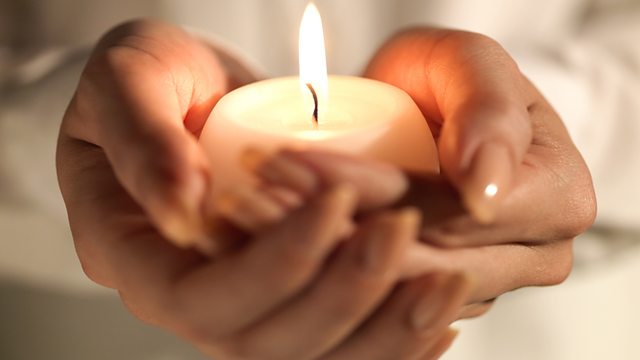 In My End Is My Beginning
Mark Tully takes the famous line from T S Eliot's poem East Coker as a starting point for an Easter programme about resurrection, time, change and moving on.
Mark Tully strikes a valedictory note as he introduces the last original edition of Something Understood. He takes as his theme T S Eliot's line from Four Quartets - "In my end is my beginning".
This Easter programme weaves together ideas of death and resurrection, cycles of change and cyclical time and the pain and the joy of moving on into the unknown.
There are readings from Eliot, Vera Brittain, Simone Weil and Brendan Kennelly, with music including a Resurrexit by Berlioz, a salsa from Willie Colon and a medieval rondo by Marchaut.
Readers: Paterson Joseph, Emma Fielding and Frank Stirling
Presenter: Mark Tully
Producer: Frank Stirling
A 7digital production for BBC Radio 4
Readings
Title: Extract of East Coker from Four Quartets
Author:  T.S. Eliot
Found in Four Quartets
Published by Faber Poetry
Title: Letter to Maggie Lukens
Author: Simone Weil
Found in The Virago Book of Spirituality: Of Women and Angels
Published by Virago
Title: Extract from Meditations
Author: Marcus Aurelius
Translated by Martin Hammond
Published by Penguin
Title: Begin
Author: Brendan Kennelly
Found in Familiar Strangers: New & Selected Poems 1960-2004
Published by Bloodaxe Books (2004)
Title: St Pancras Station August 1915
Author: Vera Brittain
Music
Title: The Christ Is Risen
Performer: Choir of the Holy Trinity St. Sergius Lavra, Choir of the Moscow Ecclesiastical Academy
Composer: Alexander Kastalsky
Album: Russian Easter
Label: Melodia Track: 9


Title: Ma Fin Est Mon Commencement
Performer: Orlando Consort, Robert Harre-Jones
Composer: Guillaume de Machaut
Album: Machaut: Chansons
Label: DG Archiv Track: 13
Title: Turn! Turn! Turn! 
Performer: The Byrds
Album: Turn! Turn! Turn! The Byrds Ultimate Collection
Label: Columbia LegacyTrack: 5
Title: String Quartet No. 15 in A Minor, Op. 132 iii. Molto Adagio; Andante
Performer: Penderecki String Quartet
Composer: Ludwig Van Beethoven
Label: Marquis Classics Track: 3
Title: Todo Tiene Su Final  
Performer: Willie Colon
Album: Lo Mato
Label: FaniaTrack: 2
Title: Messe Solennelle: Ressurexit  
Performer: Orchestre Revolutionnaire et Romantique, Monteverdi Choir, John Eliot Gardiner
Composer: Hector Berlioz
Album: Berlioz: Messe Solennelle
Label: Philips Track: 9