Main content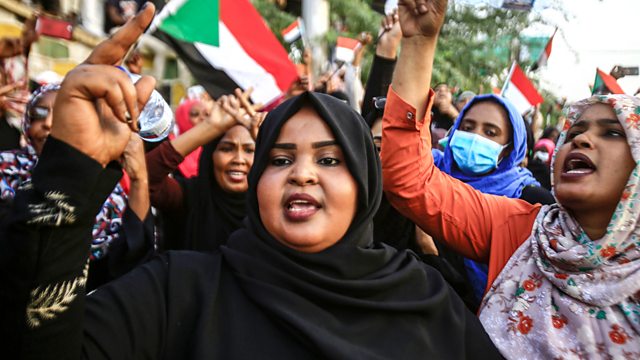 Women in Sudan, Game of Thrones, Nurse Molly Case, Top Girls
What role have women played in the protests in Sudan? How can we live an environmentally friendly life? The popularity of K-Pop.
The photo of a young Sudanese woman chanting on top of a car went viral and became an iconic image in the protests against Omar al-Bashir's rule. What role have women played in the protests? And what is the current status of women in the country? CNN correspondent Nima Elbagir in Khartoum and Associate Fellow, Chatham House and former British ambassador to Sudan Rosalind Marsden discuss.
The nurse and spoken word artist Molly Case on her book How to Treat People – A Nurse at Work.
How can we live an environmentally friendly life? Dr Tara Shine and Madeleine Murray, who run Change by Degrees, a sustainability consultancy that offers advice to business and communities, and environmental journalist, Lucy Siegle offer for some tips on the ways we can live better, greener lives.
Top Girls, the iconic feminist play by Caryl Churchill is currently on stage at the National Theatre in London. Lucy Black, Liv Hill and Katherine Kingsley, three actors from the cast discuss why the play made such an impact when it was first performed in 1982 and why it is still relevant today.
It's the final season of Game of Thrones - three fans Danielle Ward, Georgia Humphrey and Ruth Websdale tell us why the series appeals to female viewers.
The Shatila Refugee camp in the south of Beirut was originally built in 1949 to house Palestinian refugees. Following the outbreak of civil war in Syria in 2011 tens of thousands of Syrian refugees have fled to Lebanon many of them also taking refuge in the Shatila Camp. The publisher and author Meike Ziervogel talks about the work she is doing with 100 Syrian refugee women who have set up The Shatila Studio, a bespoke needlework business that is attracting orders from outside the camp.
BLACKPINK made history by becoming the first female K-Pop band to perform at the festival, Coachella. With a world tour set for this year and their single 'Kill This Love' climbing the charts in the UK and the US, it looks like they might be poised to break the western pop music market. We discuss the role of women in K-Pop, both as performers and as fans. And what's behind the 'girl crush' concept? K-Pop dance instructor Tammy Jane Mejia, music journalist Biju Belinky and Dr Haekyung Um from the University of Liverpool discuss.
Presenter: Jane Garvey
Producer: Dianne McGregor