Main content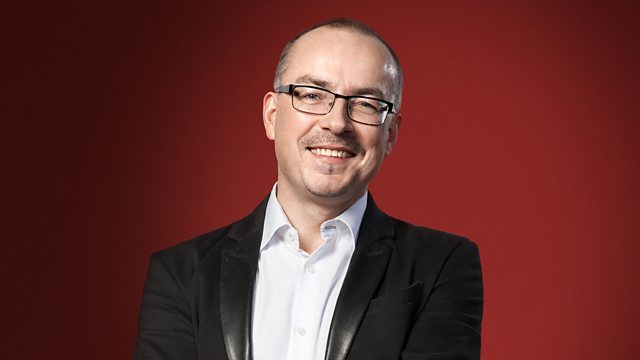 Andrew McGregor with Lucy Parham and Sarah Lenton
The latest recordings with Andrew McGregor, Building a Library on Schumann's Piano Concerto from Lucy Parham, and new releases of opera on DVD from Sarah Lenton.
with Andrew McGregor.
09.30
Building a Library: Lucy Parham listens to and compares recordings of Schumann's Piano Concerto.
The Piano Concerto in A minor, Op. 54 was finished in 1845 and is Schumann's only piano concerto. The piece has the character of a fantasy. The work is suffused with a sense of yearning and happiness; of two people in love. It seems in some ways to portray his attempt to woe and finally marry Clara, the daughter of his famous piano teacher, Friedrich Wieck. The main motif of the first movement recalls Florestan's prison aria in Beethoven's opera Fidelio. In Schumann's case this possibly symbolises his struggle for personal freedom and happiness.
10.50
Andrew McGregor talks to Sarah Lenton about recent opera productions that have been released on DVD including Cavalli's Giasone, Verdi's Stiffelio and Berg's Wozzeck
11.25
Andrew chooses an outstanding new release as his Disc of the Week.
Record Review
9.00am

Schubert: Octet in F Major; Berwald Grand Septet in B flat Major
Anima Eterna Brugge (ensemble)
Alpha 461
https://outhere-music.com/en/albums/schubert-berwald-chamber-music-alpha461

C. Schumann: Piano Concerto in A minor; Hiller: Konzertstuck; H. Herz: Rondo de concert; F. Kalkbrenner: Le rêve
Howard Shelley (piano & conductor)
Tasmanian Symphony Orchestra
Hyperion CDA68240
https://www.hyperion-records.co.uk/dc.asp?dc=D_CDA68240

J.S. Bach: Markus Passion (Reconstructed by J. Savall)
Evangelist - David Szigetvári (tenor)
Marta Mathéu (soprano)
Raffaele Pé (counter-tenor)
Reinoud Van Mechelen (tenor)
Konstantin Wolff (bass)
Veus – Cor Infantil Amics de la Unió (choir)
La Capella Reial de Catalunya (choir)
Le Concert des Nations (ensemble)
Jordi Savall (direction)
AliaVox AVSA9931 (2 x Hybrid SACD)
https://www.alia-vox.com/en/catalogue/j-s-bach-markus-passion/

'In Circles' - Folk-influenced music for saxophone by Pessard, Sculthorpe, Falla, Macmillan, Grainger, Brahms, Barton, Vaughan Williams & Edwards
Amy Dickson (saxophones)
William Barton (didgeridoo)
Daniel de Borah (piano)
Adelaide Symphony Orchestra
Nicholas Carter (conductor)
Sony 19075944692
9.30am – Building a Library – Lucy Parham on R. Schumann's Piano Concerto
Composer: Robert Schumann
Reviewer: Lucy Parham
Recommended Recording:

András Schiff (piano)
Concertgebouw Orchestra
Antal Dorati (conductor)
Decca 4119422
Other Recommended Recordings:

Murray Perahia (piano)
Bavarian Radio Symphony Orchestra
Colin Davis (conductor)
Sony 88697721002

Andreas Staier (fortepiano)
Orchestra de Champs Elysees
Philippe Herreweghe (conductor)
Harmonia Mundi HMA1951731

Krystian Zimerman (piano)
Berlin Philharmonic Orchestra
Herbert von Karajan (conductor)
DG 4390152
10.20am – New Releases – Easter highlights

Buxtehude: Membra Jesu nostril
Eloise Irving (soprano)
Charlotte Ives (soprano)
Daniel Collins (counter-tenor)
Nicholas Mulroy (tenor)
Reuben Thomas (bass)
The Chapel Choir of Trinity Hall, Cambridge
Orpheus Britannicus (ensemble)
Newe Vialles (viol consort)
Andrew Arthur (director)
Resonus RES10238
https://www.resonusclassics.com/dieterich-buxtehude-membra-jesu-nostri-buxwv-75

G. Jackson: The Passion of our Lord Jesus Christ
Emma Tring (soprano)
Guy Cutting (tenor)
Choir of Merton College, Oxford
Oxford Contemporary Sinfonia
Benjamin Nicholas (conductor)
Delphian DCD34222
http://delphianrecords.co.uk/product-group/gabriel-jackson-the-passion-of-our-lord-jesus-christ/

'Passio Iberica' - Francisco Xavier Garcia Fajer: 7 Palabras de Cristo en la cruz; José Joaquin dos Santos: Stabat mater
Bárbara Barradas (soprano)
Lucia Napoli (mezzo-soprano)
André Baleiro (baritone)
Divino Sospiro (ensemble)
Massimo Mazzeo (direction)
Pan Classics PC 10401


10.20am – New Releases – Sarah Lenton on opera DVDs
Cavalli: Il Giasone
Giasone – Valer Sabadus (counter-tenor)
Medea – Kristina Hammarstrom (mezzo-soprano)
Sole - Kristina Mkhitaryan (soprano)
Oreste – Willard White (baritone)
Capella Mediterranea  (orchestra)
Leonardo García Alarcón (conductor)
Alpha 718
https://outhere-music.com/en/albums/cavalli-il-giasone-alpha718

Adès: The Exterminating Angel
Edmundo de Nobile – Joseph Kaiser (tenor)
Lucía de Nobile – Amanda Echalaz (soprano)
Leticia Maynar – Audrey Luna (soprano)
Leonora Palma – Alice Coote (mezzo-soprano)
Metropolitan Opera Chorus
Metropolitan Opera Orchestra
Thomas Adès (conductor)
Erato 0190295525507
http://www.warnerclassics.com/shop/3150234,0190295525507/thomas-ades-ades-the-exterminating-angel

Gluck: Orphée et Euridice
Orphée – Juan Diego Flórez (tenor)
Euridice – Christiane Karg (soprano)
L'Amour – Fatma Said (soprano)
Coro e Orchestra del Teatro Alla Scala
Michele Mariotti (conductor)
Clasart Classic 08052

Verdi: Stiffelio
Stiffelio – Luciano Ganci (tenor)
Lina – Maria Katzarava (soprano)
Count Stankar – Francesco Landolfi (baritone)
Raffaele – Giovanni Sala (tenor)
Coro e Orchestra del Teatro Comunale di Bologna
Guillermo García Calvo (conductor)
Naxos 2.110590
https://www.naxos.com/catalogue/item.asp?item_code=2.110590

Berg: Wozzeck
Wozzeck – Christopher Maltman (baritone)
Marie – Eva-Maria Westbroek (soprano)
Andres – Jason Bridges (tenor)
Captain – Marcel Beekman (tenor)
Doctor – Willard White (bass-baritone)
New Amsterdam Children's Choir
Dutch National Opera Chorus
Netherlands Philharmonic Orchestra
Marc Albrecht (conductor)
Naxos 2.110582         
https://www.naxos.com/catalogue/item.asp?item_code=2.110582

11.20am – Record of the Week

Schubert: 4 Impromptus D899, 4 Klavierstucke and Piano Sonatas in C minor, D.958 & A-flat, D.959
András Schiff (fortepiano: Franz Brodmann, Vienna c. 1820)
ECM 4817 252 (2 CDs)
https://www.ecmrecords.com/catalogue/1548146073/franz-schubert-sonatas-impromptus-andras-schiff