Main content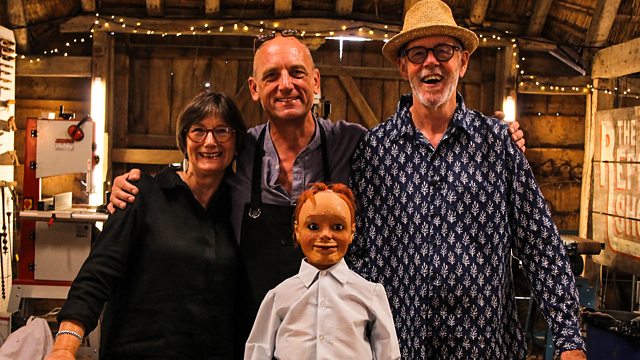 Episode 14
The team tackle a ventriloquist's dummy, a 1920s typewriter and a precious athletics trophy that's the last remaining memento of a much-loved father.
This time, no fewer than four experts pool their talents to tackle the repair of a battered, old ventriloquist's dummy who goes by the name of George. George and owner Alan were once a formidable stage double act, but time has taken its toll on Alan's cheeky sidekick, leaving him with wonky eyes, a severely chipped face and virtually no hair. Will the combined efforts of mechanical maestro Steve, ceramics conservator Kirsten and toy repair duo Amanda and Julie be enough to get George stage-worthy again, ready for Alan to entertain his grandchildren at an upcoming birthday party?
Silversmith Brenton West takes on the repair of a silver running trophy that survived a direct hit during the Blitz. Brought in by Valerie Bowker, the trophy was once the proud possession of her father, who was a successful amateur athlete in his youth. Sadly, this trophy is the only remaining memento Valerie has of her dad, as everything else was destroyed in the bomb blast. Brenton has his hands full restoring the dented, tarnished and bent trophy back to a fitting state.
And husband-and-wife team Walid and JouJou Saad are on hand to repair a vintage portable typewriter, an iconic Corona 3 dating from the 1920s. The typewriter hasn't worked for many years, but Walid and JouJou are confident they can bring it back to life using all the tricks of their trade.