Main content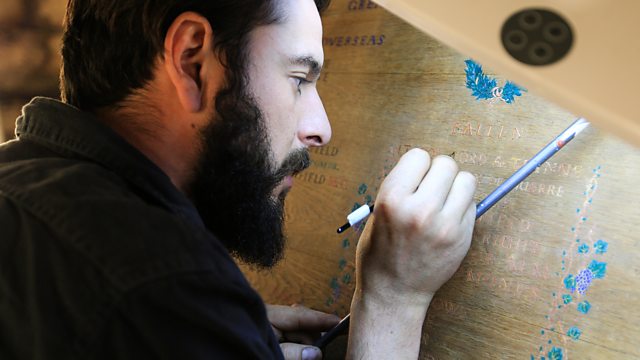 Episode 11
The team tackle a faded village war memorial, an iconic 1960s one-armed bandit, and a much-loved teddy bear whose lifelong owner recently passed away.
Dominic Chinea takes on a repair of huge significance to the residents of the village of Norton in Northamptonshire: a faded and misshapen wooden memorial board that records the names of all the men of the village who served in the First World War. Sadly, the names have eroded over time and many are no longer legible. With the centenary of the 1918 armistice looming, the villagers would dearly love to see the names of the fallen restored, so that they can be honoured for years to come. Dom is apprehensive about taking on such an important and time-sensitive repair, but relishes the opportunity to get out his gold leaf kit and bring the faded names back to life.
Maxine Frodsham arrives at the workshop with a dearly loved teddy bear for the attention of toy restoration duo Amanda and Julie. The bear belonged to Maxine's stepfather, Ian, for whom he was a constant companion right from the day he was born over 60 years ago. Tragically, Ian passed away only recently, and Maxine and the rest of his family are desperate to see his much-loved plaything restored as a fitting tribute to Ian's memory.
And 'Pinball Geoff' Harvey works his magic on an iconic German-built one-armed bandit that owner Freyja Burrell has treasured ever since she was given it by her father, aged just 4. Known as a Beromat, these machines were highly popular in the 1960s, and this particular example held Freyja enthralled throughout her childhood. But now, jammed up and non-functioning, Geoff has his work cut out to get the reels spinning again, to be enjoyed by a brand new generation of Burrells.