Main content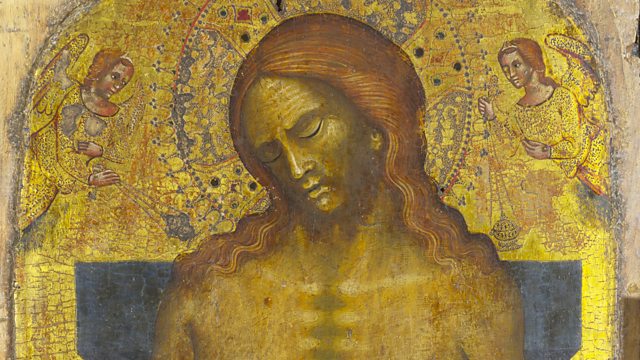 Christ as the Man of Sorrows by Jacobello del Bonomo
Muslim journalist Abdul-Rehman Malik scrutinises a 14th-century Italian painting at the National Gallery - because this Christ, unlike most others, is brown-skinned.
For Muslim journalist and commentator Abdul-Rehman Malik, when it came to selecting a painting at the National Gallery for his Essay, his choice had everything to do with skin colour: Christ as the Man of Sorrows by the 14th century Italian painter Jacobello del Bonomo is brown, rather than white and blue-eyed like so many other depictions of Jesus in Western art. Abdul-Rehman's joy over this discovery proved short-lived – but the painting prompted him to reflect on how Jesus is seen in Islam, and how he as a Muslim, who does not believe that Christ died on the cross, can relate to this image of suffering.
For this Holy Week series, BBC Radio 3 has invited five people to choose a painting of Christ's passion or resurrection at the National Gallery in London and make it the starting point for their Essay.
Image © National Gallery by kind permission.
The series producer is Kristine Pommert for CTVC.
Last on

Broadcast