Main content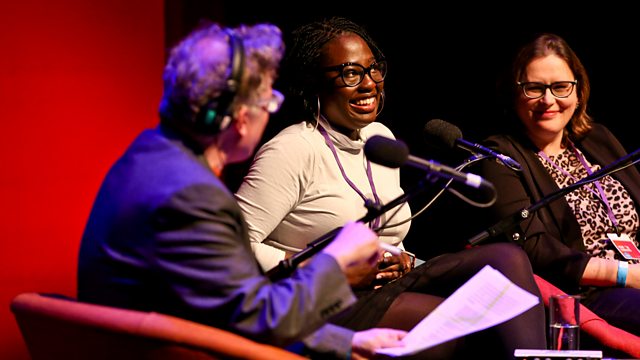 Why We Need Weepies
John Yorke, Bridget Minamore and Melanie Williams join Matthew Sweet at the Free Thinking Festival to look at the way cinema and TV soaps and dramas trigger our tear ducts.
Poet and critic Bridget Minamore, TV drama expert John Yorke and film expert Melanie Williams join Matthew Sweet for a Brief Encounter at the Free Thinking Festival to look at the devices – music, close ups and the cliffhangers that cinema and TV employ to make us cry. From Bambi to Titanic, how have directors managed to trigger our tear ducts? And has the big screen actually shaped our understanding of emotion in modern life.
John Yorke is the author of How Stories Work and Why We Tell Them. Former Head of Channel Four Drama, Controller of BBC Drama Production and MD of Company Pictures, John has shaped stories and big emotional moments in British TV working on series such as Shameless and Life On Mars, EastEnders and Holby City, Bodies and Wolf Hall.
Melanie Williams is the author of Female Stars of British Cinema, a book about David Lean and British Women's Cinema. She teaches at the University of East Anglia.
Bridget Minamore has published a poetry pamphlet about modern love and loss Titanic, her journalism includes writing for The Guardian and The Stage. She has written with organisations including The Royal Opera House, The National Theatre and Tate Modern.
Producer: Fiona McLean
From Bambi and Titanic to EastEnders - Matthew Sweet asks what makes us cry and why?