Main content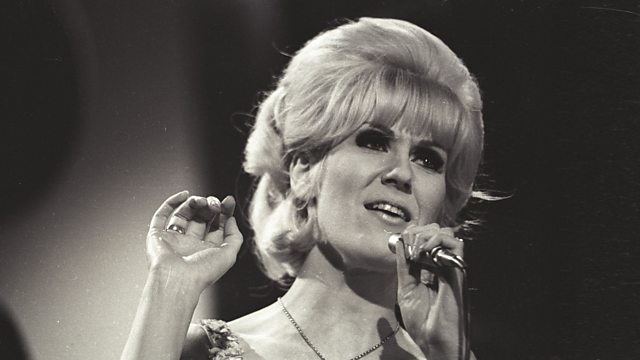 Island of Dreams
'Definitively Dusty' examines the music and artistry of one of the greatest singers Britain has ever produced - Dusty Springfield. In unheard archive Dusty
tells her story.
Definitively Dusty' is three progs which examine in detail the music, art and artistry of one of the greatest singers Britain has ever produced - Dusty Springfield. With access to hours of previously un-broadcast interviews with Dusty, and many new interviews with those who worked closely with her and her friends, 'Definitively Dusty' includes a wealth of music including hitherto unreleased material from her recording sessions.
In prog 1 - Island of Dreams, Dusty tells us about the musical influences of her childhood, listening to Carmen Miranda and MGM Musicals and how she played Belgravia supper clubs as a teenager. We hear from Lynne Essex, member of The Lana Sisters about Dusty's audition for the band and talks about Dusty's time in this all-girl vocal trio. We hear how Dusty left The Lana Sisters to form a folk trio with her brother Tom - The Springfields - who became very successful both in the UK and the USA. And it was on a trip to Nashville to record an album with The Springfields that Dusty, during a stop-over in New York, fell in love with black pop music. Dusty talks about the records she then heard in a Time Square record shop that went on to shape her whole career.
We hear from good friend and latter-day manager Vicki Wickham how she booked The Springfields onto a brand new pop tv programme Ready Steady Go! only to find out that the group were splitting up - and how Dusty became a compere and launched her debut solo hit 'I Only Want To Be With You'. Dusty's lifelong PA, Pat Rhodes tells us about the birth of Dusty's solo career and how she was in the recording studio. Singer Sandie Shaw remembers how Dusty stood in for her during a performance of Always Something To Remind Me - and admires her exceptional taste in songs. 1960's NME journalist and PR executive Keith Altham talks about Dusty's love of soul music and we learn how Dusty was instrumental in helping to launch Motown in the UK. She had met them on her first solo concerts in Brooklyn where she became friends with Martha Reeves and would be a Vandella singing back-up for Marvin Gaye.
Dusty tells us about enjoying the life of a successful artist and a mid sixties trip to Rio with her brother Tom, Madeline Bell and Martha Reeves and how the carnival music was unlike anything else she had ever heard.
Dougie Reece, the bassist from her backing band, The Echoes, tells us about the ill-fated concert trip to South Africa in 1964, when Dusty was deported back to the UK for refusing to play to segregated audiences.
Dusty talks about the San Remo festival and discovering a song Io No Vivo Senza Te - which she just knew would be a hit for her - and was to become her signature tune 'You Don't Have To Say You Love Me'. Contributors: Dusty Springfield, Tris Penna, Keith Altham, Pat Rhodes, Vicki Wickham, Simon Napier Bell, Sandie Shaw, Martha Reeves & Dougie Reece.