Main content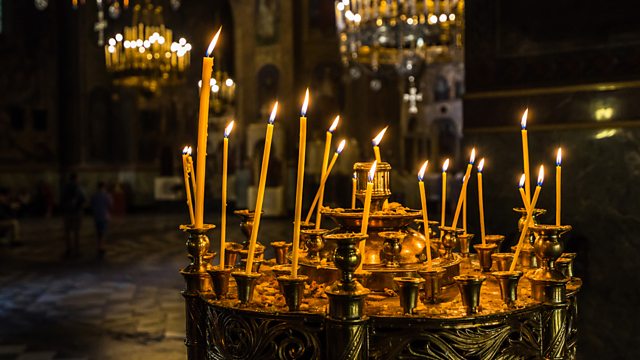 Latvia, Denmark, Czech Republic, the Netherlands and Russia
Music for Holy Week from around Europe, with concerts from Latvia, Denmark, the Czech Republic, the Netherlands and Russia. Presented by Andrew McGregor.
Andrew McGregor continues his annual day of music for Holy Week from around Europe.
4pm LIVE from Radio Latvia Studio 1, Riga
A masterpiece of Dutch Baroque music written for Maundy Thursday, performed by the Riga Baroque Ensemble on original instruments
Joseph-Hector Fiocco (1703-1741) - Lamentations du jeudi saint (cantatas for soprano, two cellos and continuo)
Daniel Kahde (1631-1689) - Erste Trauer-Ode (First Mourning Ode)
Aija Veismane-Garkeviča, soprano
Riga Baroque Ensemble
Veronika Rinkule, harpsichord
5pm from Trinity Church, Copenhagen
Ars Nova Copenhagen and Paul Hillier perform a concert of works for Holy Week
Anon - Laudario di Cortona - Venite a laudare, Cristo e nato
Anna S. Thorvaldsdóttir (1977) - Heyr thú oss himnum á
Anon - Laudario di Cortona - Laude novella, Oime lass e freddo lo mio core
James MacMillan (1959) - Miserere
Anon - Laudario di Cortona - Altissima luce, Sia laudato San Francesco
John Tavener (1944-2013) - The Lamb
Gabriel Jackson (1962) - Stabat Mater
Ars Nova Copenhagen
Paul Hillier (conductor)
6pm from Dvorak Hall, Rudolfinum, Prague
The Prague Radio Symphony Orchestra and Philharmonic Choir perform Dvorak's Stabat Mater
Antonín Dvořák (1841-1904) - Stabat Mater, Op.58 for soloists, chorus and orchestra
Pavla Vykopalová, soprano
Denisa Hamarová, contralto
Jaroslav Březina, tenor
Peter Mikuláš, bass
Prague Philharmonic Choir
Prague Radio Symphony Orchestra
Ondrej Lenárd, conductor
7.45pm from the Royal Concertgebouw, Amsterdam
William Christie conducts Bach's St John Passion
Johann Sebastian Bach (1685-1750) - St John Passion, BWV 245
Reinoud Van Mechelen, tenor, Evangelist
Alex Rosen, bass, Christ
Emőke Baráth, soprano
Iestyn Davies, countertenor
Renato Dolcini, bass
Anthony Gregory, tenor
Netherlands Chamber Choir
Royal Concertgebouw Orchestra
William Christie, conductor
10pm from Alexandrovsky Concert Hall, Moscow, Russia
The Masters of Choral Singing Grand Chorus perform recently discovered music by Pavel Chesnokov
Pavel Chesnokov (1877-1944):
Let my prayer be set forth Op.24/6
Holy God
Praise the Lord from the Heavens
In Days of Battle Op.45
The Angel Cried Op.22/8
What Shall We Call Thee Op.43/2
Cherubic Hymn Op.27/5
To Thee We Sing Op.27/6
Masters of Choral Singing Grand Chorus
Lev Kontorovich, conductor
Last on

Broadcast

Featured in...
We broadcast more live and specially-recorded concerts and opera than any other station.