Main content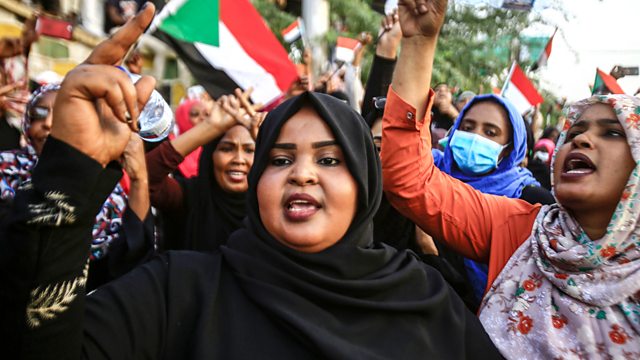 Women and protests in the Sudan
Sudanese women and protesting, solving environmental problems, sex therapy in 1950s England, dealing with nutrition and food allergies.
The photo of a young Sudanese woman chanting on top of a car has gone viral and has become an iconic image in the protests against Omar al-Bashir's regime/rule. What role have women played in the protests? And what is the current status of women in the country? CNN correspondent Nima Elbagir in Khartoum and Associate Fellow, Chatham House and former British ambassador to Sudan Rosalind Marsden discuss.
In the run up to World Earth Day next week on the 22nd April we speak to two women who are using their skills to solve some of our environmental problems. Dr Fanya Ismail has invented a waterproof material that will be used in disposable coffee cups which removes the need to use plastic, and Dr Carmen Hijosa has invented a natural textile made from pineapple leaf fibre which can be used as a leather substitute. Jane asks them how and why they created their products.
Dr Joan Malleson ran sexual counselling sessions in the 1950's. From the Wellcome Foundation archives, historian, Dr Caroline Rusterholz reveals the approach of this birth control activist and family planning doctor. Why was the advice on offer in a period better-known for sexual repression and what does it tell us about current sexual behaviour?
Food allergies affect 3 to 6 per cent of children in the developed world and appear to be on the rise. Last week we heard about the diagnosis and management of food allergies in infants and children. This week we focus specifically on how to feed your child well if he or she has food allergies. Clare Thornton-Wood is a paediatric dietician.
Presenter: Jane Garvey
Producer: Kirsty Starkey
Interviewed Guest: Nima Elbagir
Interviewed Guest: Rosalind Marsden
Interviewed Guest: Dr Carmen Hijosa
Interviewed Guest: Dr Fanya Ismail
Interviewed Guest: Dr Caroline Rusterholz
Interviewed Guest: Clare Thornton-Wood