Main content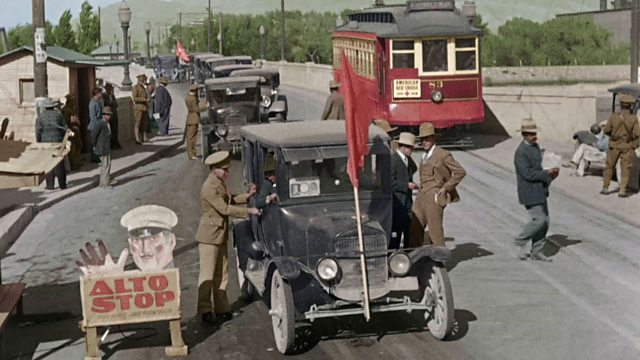 The story of America's criminal past, seen in colour for the first time using rare archive.
Eadar na 1920an agus na 1960an chaidh Ameireaga bho neart gu neart. Se àm sònraichte a bh' ann ann an eachdraidh na dùthcha nach deach fhaicinn air film ach ann an dubh 's geal. Ach a-nis, le dathadh digiteach, chithear na h-amannan seo ann an dath airson a' chiad uair.
Eadar 1919 agus 1963 chuir eucoirean Ameireagaidh ìmpireachd mhòr air bhog, a' dèanamh airgead aig a h-uile cothrom a gheibheadh iad.
Le bhith a' cleachdadh dòighean coirbte airgead a dhèanamh às an World Series agus a' solarachadh deoch làidir aig àm an uair a bha e toirmisgte, bha buidheann de dhaoine cumhachdach ag atharrachadh eucoir gu gnìomhachas ann an dòigh a bha soirbheachail, ach a bha a' gabhail a bhrath air coirbteachd phoilitigeach, a thug buaidh air Ameireaga air fad. A-nis le bhith a' cleachdadh tasglann de sheann filmichean, chithear an t-àm sònraichte seo ann an dath airson a' chiad uair.
From the 1920s to the 1960s, America transformed into a global superpower. It was a decisive period in the nation's history that most have only witnessed in black and white. Now, using digital recolouring, these decades can be seen in full colour for the first time.
Between 1919 and 1963 America's criminals built a vast empire, finding money-making opportunities in as many corners as they can. From fixing a World Series, and supplying bootleg liquor during America's infamous Prohibition years, a group of powerful figures reshaped crime into an organised business that exploited political corruption that reached right across America.
Now, using rare archive and home movie footage, the story of America's criminal past will be seen in colour for the first time.