Main content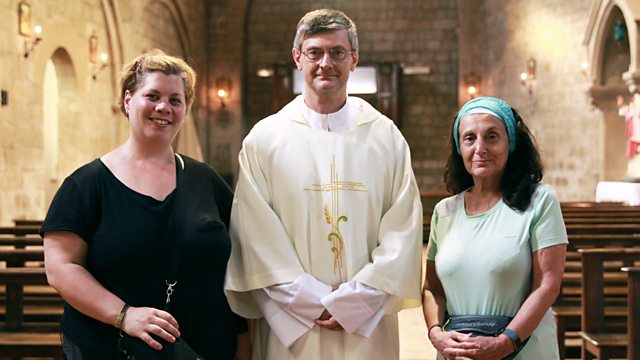 Episode 2
Stephen K Amos tells the group that as a gay man he struggles to find any kind of religious home.
In this second episode, it is day four, and Stephen, Greg, Brendan and Les wake up in a yurt. They are all staying in a hostel on a Roman road in a tiny village in the Tuscan Appenines, and they are beginning to realise how important the simple life is to the pilgrim experience – especially when a donkey appears in the kitchen to try and eat their breakfast.
They start heading further into Tuscany and just beyond Monteriggioni come across a welcome rest stop. It is a 'donativo', run by Marcello from the front garden of his home, and pilgrims donate whatever they can for their food and drink. Marcello is a retired hairdresser and while he cuts Greg's hair, Greg – who has recently retired as an international athlete – asks for his advice. Greg is feeling apprehensive as he navigates the process of searching for the next chapter in his life.
Later that afternoon the pilgrims move onto Bagno Vignoni - the famous Roman baths - and Greg and Brendan take the plunge in the public pool. Greg, a lapsed Jehovah's Witness, shares the problems he has with faith with atheist Brendan. Meanwhile, at the top of the hillside, Dana, Stephen, Les and Katy visit the Roman bath formerly used by popes, and explore the history of St Catherine of Siena, who also used to stay here.
The group travel on to the medieval city of Viterbo. From here, they have to walk every step of the final 100km to Rome. But before they take to the road, some of the group, including Lesley, who is Jewish, and Mehreen, a Muslim, opt to receive a pilgrim blessing to send them on their way, from the deacon of the Church of the Pilgrim. It triggers a vigorous discussion about the boundaries of their faiths and beliefs.
They also take time while they are in Viterbo to visit Immaculata. She is famed for her knowledge of the Via and what it takes to be a true pilgrim. At her hostel, she also encourages a particular ritual – asking visiting pilgrims to bring a stone from home which is a personal, symbolic reminder of someone special. The gesture is particularly emotional for Stephen, who has had a recent bereavement, and tells how the pilgrimage has helped release his grief and pain.
The following day, day seven of their pilgrimage, they set off on their first leg of the 100km. Despite getting lost, twice, after 13km they arrive at their B&B. Over dinner, Stephen instigates a group discussion about religion because he feels, as a gay man, he is not accepted by any religion or faith. Dana, a practicing Catholic, admits it is a contentious issue but finds it particularly hard to defend her church, as it is currently in such tumult.
Over the next couple of days, the pilgrims make their way to the medieval town of Capranica. But Katy has made a fatal mistake – she has put on wet socks, and is now suffering with blisters. It doesn't bode well.
Clips

Music Played
Timings (where shown) are from the start of the programme in hours and minutes
Credits
| Role | Contributor |
| --- | --- |
| Narrator | Lee Ingleby |
| Composer | Joaquim Badia |
| Production Manager | Barbara Masullo |
| Editor | Chris Kenyon |
| Editor | Philip Diprose |
| Executive Producer | Caroline Matthews |
| Executive Producer | Colm Martin |
| Series Producer | Toni Williamson |