Main content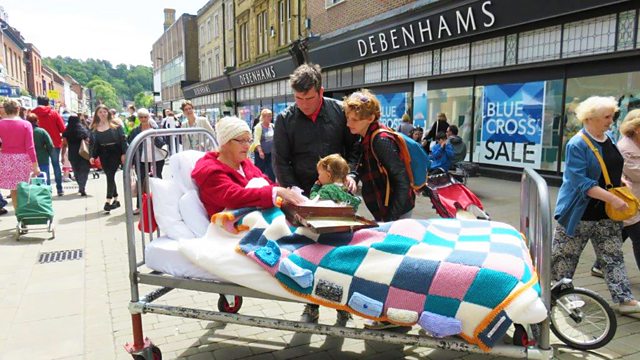 Ageing visibly
Andrew Marr discusses ageing with Nicci Gerrard, Sue Armstrong, John Agard and David Slater.
850,000 people in the UK are thought to be living with dementia. The writer Nicci Gerrard tells Andrew Marr about her father's slow death from the illness. She explores issues around memory, language and identity, as well as asking how society will cope as the population ages and the number of people suffering with dementia rises into the millions.
But why and how do we age? The science journalist Sue Armstrong has been investigating what happens to cells when the body gets older, and whether ageing really can be treated like any other disease waiting to be cured. Life expectancy has risen sharply in the last half century globally, but can it keep on rising?
The street theatre performance, Bed, involving elderly actors lying in beds in town centres around the country, was devised by older members of Entelechy Arts who wanted to make a statement about isolation and invisibility. The Artistic Director David Slater says the arts have an important role to play in improving people's lives no matter how old.
The poet John Agard is 70 this year. In his latest collection, The Coming of the Little Green Man, he explores the world from the stance of the outsider. In a series of mischievous, satirical fables he gives voice to the political and spiritual, comic and poignant.
Last on
Nicci Gerrard
Nicci Gerrard is a writer and campaigner, a celebrated novelist with her husband as Nicci French. She is co-founder of John's Campaign, named after her father, which has campaigned to give carers of those with dementia the same rights as parents of children to accompany them in hospital. Recognised by NHS policy makers, charities, nurses, doctors and carers, almost every hospital in the UK has now signed up to the campaign.What Dementia Teaches Us about Love is published by Allen Lane
Sue Armstrong
Sue Armstrong is a writer and broadcaster specialising in science, health, and development issues. For many years she reported on the AIDS pandemic from the frontline in Africa, Asia, and the Caribbean. Now based in Scotland, Sue has worked on many programmes on science and other topics for BBC Radio 4 and the BBC World Service.
Borrowed Time: The Science of How and Why We Age is published by Bloomsbury 

David Slater
David Slater is the artistic director of Entelechy Arts. 
John Agard
John Agard is a poet, performer and anthologist. 
The Coming of the Little Green Man is published by Bloodaxe Books
Broadcasts