Main content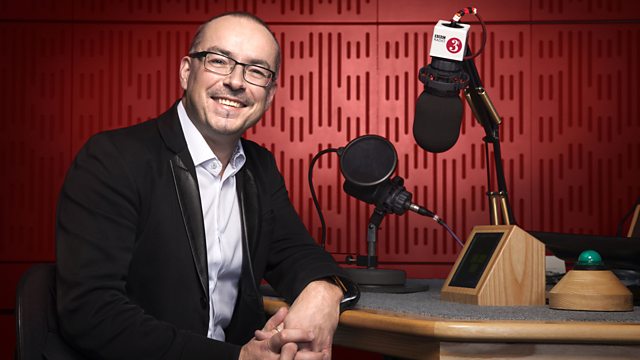 Andrew McGregor with Nicholas Baragwanath and Sarah Walker
Andrew McGregor rounds up the best new and recent releases and, in Building a Library, Nicholas Baragwanath compares recordings of Mahler's Symphony No 4. Plus, the LA Phil at 100.
with Andrew McGregor.
09.30
Building a Library: Nicholas Baragwanath listens to and compares some of the available recordings of Mahler's 4th Symphony.
Mahler wrote his 4th Symphony on the very cusp of the Twentieth Century and it was premiered in Munich on 25th November 1901. Since Mahler's death, his 4th Symphony has come to be recognised as one of his most 'classical' and approachable of his symphonic works, although it was considered to be a sacrilegious modernist work at the time of its premiere. It completes the tetralogy of his first four symphonies, his 'Wunderhorn' symphonies, so called because they each reversion music from his orchestral Wunderhorn songs. In the case of the Fourth Symphony, it is the disquieting song 'Das himmlische leben' that permeates the entire work and then comes to the fore when solo soprano joins forces with the orchestra for the final movement.
Mahler's 4th Symphony is not scored for a very large orchestra and includes neither trombones nor tuba. In it, Mahler also makes wonderful use of 'Klangfarben', voices emerging from one another within the orchestra.
1050
Sarah Walker reviews the new DG 35-CD box set 'LA Phil Centenary Edition', which includes recordings from Stravinsky to Dudamel and Giulini to Esa-Pekka Salonen.
11.25
Andrew chooses an outstanding new release as his Disc of the Week.
Last on

Record Review
9.00am

'Celebrating John Williams' – Music by John Williams from Close Encounters of the Third Kind, Jaws, Harry Potter, Schindler's List, E.T., Hook, Jurassic Park, Indiana Jones, Memoirs of  Geisha, Star Wars & Superman + Olympic Fanfare and Theme
Los Angeles Philharmonic Orchestra
Gustavo Dudamel (conductor)
Deutsche Grammophon 483 6647 (2 CDs)
https://www.deutschegrammophon.com/gb/cat/4836647

'The Music of King's: Choral Favourites from Cambridge' – Choral music by Monteverdi, Schedt, Palestrina, Fauré, Mozart, Franck, Parry, Goss, Walford Davies, L. Berkely, O. Gjeilo, F. Martin, M. Lauridsen & S. Paulus
The Choir of King's College, Cambridge
Stephen Cleobury (conductor)
Kings KGS 0034
https://www.kingscollegerecordings.com/product/the-music-of-kings/

Tavener: Five anthems from the Veil of the Temple, Angels, As one who has slept, Song for Athene, The Lamb & others
Winchester Cathedral Choir
George Castle (Winchester cathedral organ)
Andrew Lumsden (conductor)
Hyperion CDA68255
https://www.hyperion-records.co.uk/dc.asp?dc=D_CDA68255

Gounod: Symphonies Nos.1 & 2
Iceland Symphony Orchestra
Yan Pascal Tortelier (conductor)
Chandos CHSA 5231 (Hybrid SACD)
https://www.chandos.net/products/catalogue/CHSA%205231

Spontini: Olimpie (1826 revision)
Olimpie           Karina Gauvin (soprano)
Statira              Kate Aldrich (mezzo soprano)
Cassandre        Mathias Vidal (tenor)
Antigone         Josef Wagner (baritone)
L'Hiérophante Patrick Bolleire (bass)
Hermas            Philippe Souvagie (baritone)
Flemish Radio Choir
Le Cercle de l'Harmonie (orchestra)
Jérémie Rhorer (conductor)
Bru Zane BZ1035 (2 CDs + 168pg book)
http://www.bru-zane.com/en/publication/olimpie/
9.30am – Building a Library – Nicholas Baragwanath on Mahler's Symphony No.4
Composer: Gustav Mahler
Reviewer: Nicholas Baragwanath
Recommended Recording:

Miah Persson (soprano)
Budapest Festival Orchestra
Ivan Fischer (conductor)
Channel Classics CCSSA26109 (hybrid SACD)
Other Recommended Recordings:

Elsie Morison (soprano)
Bavarian Radio Symphony Orchestra
Raphael Kubelik (conductor)
Deutsche Grammophon 4696372

Jo Vincent (soprano)
Royal Concertgebouw Orchestra
Willem Mengelberg (conductor)
DG 0289 426 1082 8

Kathleen Battle (soprano)
Vienna Philharmonic
Lorin Maazel (conductor)
Sony G0100036945084

10.20am – New Releases
'Beethoven Piano Sonatas, Vol. 8' – Beethoven: Piano Sonatas Nos. 8 'Pathétique', 10, 22 & 31
Jonathan Biss (piano)
Meyer Media MM19040

Hindemith: Complete works for violin & piano + Kleine Sonata for viola d'amore & piano
Roman Mints (violin & viola d'amore)
Alexander Kobrin (piano)
Quartz QTZ 2132
https://quartzmusic.com/recording/hindemith-complete-works-for-violin-piano/

Widor: Organ Symphonies Nos. 5, 6, 8, 9 & 10
Christian Schmitt (Cavaillé-Coll organ of St Ouen, Rouen)
CPO 777 706-2 (3 hybrid SACDs)
https://www.jpc.de/jpcng/cpo/detail/-/art/charles-marie-widor-orgelsymphonien-nr-5-6-8-10/hnum/8795890

10.45am – Sarah Walker on the LA Philharmonic Centenary Box

LA Phil – 100 Years
Los Angeles Philharmonic
Various others
Deutsche Grammophon 00289 483 6107 (32 CDs & 3 DVDs + 120-page booklet)
https://www.deutschegrammophon.com/gb/cat/4836100

11.20am – Record of the Week

Tchaikovsky: The Nutcracker (arr. Pletnev); Stravinsky: Petrushka (arr. Stravinsky) & The Firebird (arr. Agosti); Prokofiev: Cinderella (arr. Prokofiev)
Alexander Ullman (piano)
Rubicon Classics RCD1029
http://rubiconclassics.com/release/stravinsky-tchaikovsky-prokofiev/
Record Review
9.00am

'Celebrating John Williams' – Music by John Williams from Close Encounters of the Third Kind, Jaws, Harry Potter, Schindler's List, E.T., Hook, Jurassic Park, Indiana Jones, Memoirs of  Geisha, Star Wars & Superman + Olympic Fanfare and Theme
Los Angeles Philharmonic Orchestra
Gustavo Dudamel (conductor)
Deutsche Grammophon 483 6647 (2 CDs)
https://www.deutschegrammophon.com/gb/cat/4836647

'The Music of King's: Choral Favourites from Cambridge' – Choral music by Monteverdi, Schedt, Palestrina, Fauré, Mozart, Franck, Parry, Goss, Walford Davies, L. Berkely, O. Gjeilo, F. Martin, M. Lauridsen & S. Paulus
The Choir of King's College, Cambridge
Stephen Cleobury (conductor)
Kings KGS 0034
https://www.kingscollegerecordings.com/product/the-music-of-kings/

Tavener: Five anthems from the Veil of the Temple, Angels, As one who has slept, Song for Athene, The Lamb & others
Winchester Cathedral Choir
George Castle (Winchester cathedral organ)
Andrew Lumsden (conductor)
Hyperion CDA68255
https://www.hyperion-records.co.uk/dc.asp?dc=D_CDA68255

Gounod: Symphonies Nos.1 & 2
Iceland Symphony Orchestra
Yan Pascal Tortelier (conductor)
Chandos CHSA 5231 (Hybrid SACD)
https://www.chandos.net/products/catalogue/CHSA%205231

Spontini: Olimpie (1826 revision)
Olimpie           Karina Gauvin (soprano)
Statira              Kate Aldrich (mezzo soprano)
Cassandre        Mathias Vidal (tenor)
Antigone         Josef Wagner (baritone)
L'Hiérophante Patrick Bolleire (bass)
Hermas            Philippe Souvagie (baritone)
Flemish Radio Choir
Le Cercle de l'Harmonie (orchestra)
Jérémie Rhorer (conductor)
Bru Zane BZ1035 (2 CDs + 168pg book)
http://www.bru-zane.com/en/publication/olimpie/
9.30am – Building a Library – Nicholas Baragwanath on Mahler's Symphony No.4
Composer: Gustav Mahler
Reviewer: Nicholas Baragwanath

10.20am – New Releases
'Beethoven Piano Sonatas, Vol. 8' – Beethoven: Piano Sonatas Nos. 8 'Pathétique', 10, 22 & 31
Jonathan Biss (piano)
Meyer Media MM19040

Hindemith: Complete works for violin & piano + Kleine Sonata for viola d'amore & piano
Roman Mints (violin & viola d'amore)
Alexander Kobrin (piano)
Quartz QTZ 2132
https://quartzmusic.com/recording/hindemith-complete-works-for-violin-piano/

Widor: Organ Symphonies Nos. 5, 6, 8, 9 & 10
Christian Schmitt (Cavaillé-Coll organ of St Ouen, Rouen)
CPO 777 706-2 (3 hybrid SACDs)
https://www.jpc.de/jpcng/cpo/detail/-/art/charles-marie-widor-orgelsymphonien-nr-5-6-8-10/hnum/8795890

10.45am – Sarah Walker on the LA Philharmonic Centenary Box

LA Phil – 100 Years
Los Angeles Philharmonic
Various others
Deutsche Grammophon 00289 483 6107 (32 CDs & 3 DVDs + 120-page booklet)
https://www.deutschegrammophon.com/gb/cat/4836100

11.20am – Record of the Week

Tchaikovsky: The Nutcracker (arr. Pletnev); Stravinsky: Petrushka (arr. Stravinsky) & The Firebird (arr. Agosti); Prokofiev: Cinderella (arr. Prokofiev)
Alexander Ullman (piano)
Rubicon Classics RCD1029
http://rubiconclassics.com/release/stravinsky-tchaikovsky-prokofiev/
Broadcast