Main content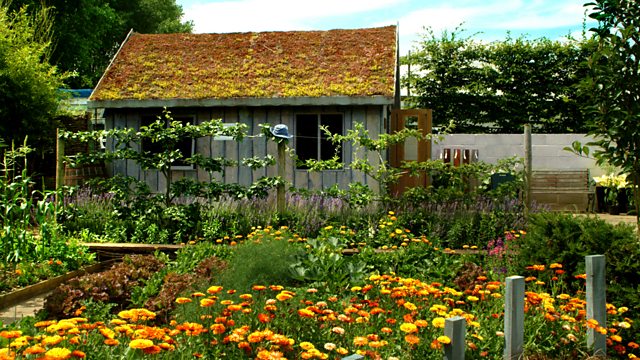 Braintree, Essex
Peter Gibbs and the panel of gardening experts are in Braintree, Essex.
Peter Gibbs and the panel of gardening experts are in Braintree, Essex. Christine Walkden, Matthew Wilson and Matt Biggs answer the audience's questions.
The panellists discuss the best shrubs to plant in heavy clay, getting rid of plum tree suckers and combining a flower bed and a vegetable patch.
Pippa Greenwood is in Alice Holt Forest with Bruce Rothnie to find out more about the history of the forest commission.
Produced by Hannah Newton
Assistant Producer: Laurence Bassett
A Somethin' Else production for BBC Radio 4.
Fact sheet
Q – How do I prevent my husband from turning my whole garden into a flowerbed?
Christine – I would plant your vegetables within his flowers. Put runner-beans in the borders up trellises, and frilly lettuce leaves around all the edges.
Matt – You can use rainbow chard for the lovely coloured stems in there, and beetroot for the attractive leaves. If you spread your vegetables around it is less likely for pests and diseases to spread. You can also introduce edible flowers such as lavender, or fuchsias, pansies, or nasturtiums that can go into salad.
Q – I want to plant a new area of shrubs in a part of the garden which is very heavy clay. Which would do well in dry conditions?
Matthew – Viburnum. Elaeagnus 'Quicksilver' which doesn't need huge amount of rainfall. Cotinus such as 'Grace'.
Christine – Griselinia, Escallonia 'Redclaw', Sea buckthorn.
Matt – I would go for groups of little shrubs such as Convolvulus cneorum 'Silverbush'.
Q – What is the reason for the loss of colour of the leaves of my Pieris Forrestii 'Forest Flame'?
Christine – Insects will cause the flecking. Give it a general fertiliser and make sure you keep it well watered.
Matt – It is about growing the right plant in the right place – you need lots of organic matter in the soil.
Matthew – I would still give it a feed of sequestered iron and seaweed and mulch of peat free ericaceous compost.
Q – I have a 30-year-old plum tree which keeps producing suckers from lateral roots which invade a nearby flowerbed. How can I restrict their growth? I currently cut them down to ground level.
Matt – You need to clear the soil away and actually tear them from the root they are growing from. If you cut then there will then be buds below ground level. If they are growing in flower borders, then spring is a good time to gather them up.
Q – Please could you give me ideas of a plant for a very special mother in law?
Matthew – Plant a tree as you plant if for who comes after as well
Matt – Collect roses and other plants named after great women such as the rose Gertrude Jekyll, and 'Miss Wilmott'
Q – In the autumn I planted about 150 welsh daffodils in a wood, but they have all come up blind.
Christine – Lift them and re-plant them 4-6 inches (10-15cm) deep.
Matt – You could put about 2-3 inches (5-7.5cm) of mulch at the top. It will improve the quality of the ground and the mulch will seal in what moisture is there so the plants can get established even better.
Matthew – There are much other varieties that you can plant which are much tougher like Narcissus 'Hawera', 'Sailboat', Papyraceus 'Paperwhite' and 'Tete-a-tete' would look good too.
Q – What is the best way to make use of my waterbutt in winter?
Christine – Use it for things under bushes and evergreen bushes. Bulbs can dry out over the winter because they don't have enough moisture. Particularly things like Narcissus such as Juncifoloius, Bulbocodium 'Petticoat daffodil' in the winter I need to keep a watch on.
Matthew – I use it for watering houseplants such as orchids
Matthew - Evergreen hedges and watering containers.