Main content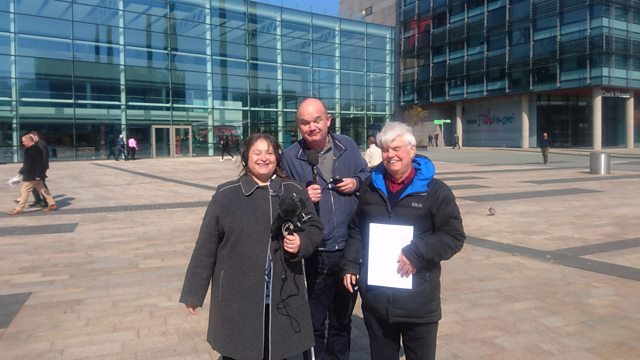 Can blind people become architects?
A week-long summer school teaching architecture to blind people. Apple products tell websites people are using screen reading software.
In the latest version of Apple's software for both iPhones and Macs, a feature has been included that tells websites a screen reader is being used. A screen reader is software that takes information from the screen and turns it in to digital speech or braille. This new feature is turned on by default. While it can be turned off, some blind people argue it shouldn't be on by default as they don't want websites or their developers, knowing they are blind. Ben Mustill-Rose is a developer who's blind working at the BBC. He explains how the feature works and what his, and others' concerns are.
Beyond Sight is a project challenging the tendency for architects to prioritise the visual above all else. As part of this, UCL is offering a week-long summer school to visually impaired people interested in becoming architects. The course will cover how design can incorporate other ways of imagining and creating space.
We speak to Mandy Redvers-Rowe one of the course coordinators and to Carlos Mourao-Pereira a blind architect.
Presenter: Peter White
Producer: Lee Kumutat
Architecture Beyond Sight free summer school
If you would like to apply for the Architecture Beyond Sight free Summer School taking place 22nd to 26th July, please write no more than 250 words about why you would like to study architecture and send it to disordinaryarchitecture@gmail.com by Wednesday 15th May 2019.

Here is a video by Tim Copsey introducing the previous series of workshops held at the Bartlett School of Architecture in Autumn 2018.
Revolving doors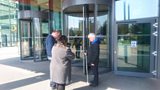 Photograph of the In Touch team standing outside the Dock House revolving doors mentioned in the programme. From left to right: Tom Walker, Lee Kumutat and Peter White.
In Touch Transcript: 09-04-19
Downloaded from www.bbc.co.uk/radio4
THE ATTACHED TRANSCRIPT WAS TYPED FROM A RECORDING AND NOT COPIED FROM AN ORIGINAL SCRIPT.  BECAUSE OF THE RISK OF MISHEARING AND THE DIFFICULTY IN SOME CASES OF IDENTIFYING INDIVIDUAL SPEAKERS, THE BBC CANNOT VOUCH FOR ITS COMPLETE ACCURACY.
IN TOUCH – Can Blind People become Architects?
TX:  09.04.2019  2040-2100
PRESENTER:           PETER WHITE
PRODUCER:             LEE KUMUTAT
White
Hello.  It's a bit of a chilly one out here on, what we like to call, the piazza of the Media City site here in Salford, from which In Touch now regularly comes. Why am I out here then and not in our usual warm studio S36?  Well the clue, perhaps, is contained in the word piazza but all will be made clear soon enough. 
Before that, for visually impaired people comfortable with the internet, one of its main advantages could be that you can engage in all kinds of activities without ever disclosing your disability.  But for how much longer?  In the latest version of Apple's software for both iPhones and Macs a feature has been introduced that tells the website you're browsing with a screen reader.
A screen reader is software that takes information from the screen and turns it into digital speech or braille.  Well this new setting is turned on by default and although it can be switched off some blind people are saying it shouldn't be on there at all.
Ben Mustill-Rose is a website programmer who works for the BBC, he is himself visually impaired.  I asked him the implications of this new development.
Mustill-Rose
What we find ourselves in now is a situation where our beloved devices have all of a sudden started disclosing to the websites that we visit that we are disabled.
White
And so, what kind of reactions have there been to this discovery?
Mustill-Rose
It's been overwhelmingly negative.  I think from a blindness point of view when I'm browsing the internet blindness is close to a hidden disability, inasmuch as I can choose whether I want to disclose it or not because obviously if I'm just on the internet the person can't see me.  So, having this feature disclose it for me and to be clear it's a feature that a lot of people might not know about, Apple do mention this on their accessibility pages but unless you're the kind of person who religiously trawls through the Apple website looking for new accessibility information, you're probably not going to know that it exists.  So, having this feature turned on by default, particularly for people who don't know about it, is I would say quite a departure from how things have been up until now.
White
So, what are the specific situations where inadvertently disclosing your disability could work against you?  What kind of things are people worrying about?
Mustill-Rose
Well it may be that you're applying for some kind of insurance, for example, so you'll go through the process online and you'll get a quote and all of a sudden you look at the price and you discover that it's higher than a quote that a friend or a family member might have got.  And that maybe because you're using a screen reader.
White
Job applications?
Mustill-Rose
Yeah, definitely.  So, it may be that you're applying for a job online and you decide, as is your right, to not disclose that you have a disability during the application process.  But unfortunately, using this new feature your device has actually disclosed it for you, quite possibly, as I say, without you knowing it.  We also need to consider data breeches.  So, that's when a company's systems might be compromised and everyone's personal information is put out on the internet for everyone else to read.  Now, of course, it's not nice when that happens full stop at all but you could imagine a scenario where a data breech happens for a company that has been storing information about people's disabilities based on this setting, so, not only is your personal information being released but you've also got something alongside it that says actually Ben is blind.  Now we should point out that there are laws that govern how companies store and use our data but if we look at the employment example again, I think a fair few of our listeners who have experience of employment might point out that when it comes to things like discrimination within the workplace, there's the law and there's reality and sometimes those two things can be ever so slightly different.
White
But you can switch it off?
Mustill-Rose
You can, yes.  So, just to be very clear this is on by default and it's not the case that when you first visit a website, when you have this latest version of the software installed, which may have been done automatically, by the way, it's not the case that you're asked at all, it's on by default, so you have to turn it off.  So, if you're using an iPhone or an iPad or an iPod Touch you can go into settings and then general, then accessibility, then voiceover, then web and then you need to find something called accessibility events and then turn that off.  So, it is possible to do but it's…
White
It's not a natural thing necessarily if you're not a bit of a geek and a bit of an expert.
Mustill-Rose
You're not going to notice it at all are you?
White
So, why have Apple done it?
Mustill-Rose
Well it's really hard to say.  The short answer to that question is I don't know.  I mean, to be clear, my position would be that it's always good that we have a choice.  I would advocate for any scenario that allows us to choose whether we want to disclose this information.  So, the fact that we now have the ability to do that is a good thing.  Now, of course, the reaction, broadly speaking, has been that the fact that this information is being disclosed by default is properly not so good though.
White
Are any of the other companies, comparable companies, doing this?
Mustill-Rose
Right, so, Android, for example, it's a little bit harder to tell whether it's possible to do that on Android devices.  So, the way that Android works is any company who sells a phone or a tablet or similar running Android, has the ability to customise it, so they can put in new features that they think that their customers might like.  So, in the interests of being 100% complete with you, it's not possible to say whether there is a version of Android somewhere in the world that has this feature built into it.  But what we can say is that actually if we look at all the main brands of Android devices and what's called stock Android, which is Android with no third-party modifications, this feature is not enabled.  So, so far, it's just Apple.
White
Ben Mustill-Rose.
We did, of course, ask Apple about this and we hope to include their response next week.
Now, if I were an architect designing this Media City site, where I'm standing, it wouldn't be like this.  For a blind person it is, let's say, challenging.  It's very open, it's got paths winding off in all directions, dotted with bollards, posts and many other hazards, which aren't made any easier by the fact that it's a bit of a wind trap.  The buildings of the BBC and the other broadcasters based here are not in a straight line or indeed in any discernible pattern, they're just sort of scattered about at all angles as if a child has had a bit of a tantrum with its Lego.  And talking of angles there are random steps, at random heights because of those random angles.  And there's nothing to steer by – no walls, no kerbs, no pavements. 
Now, mine is the view of a totally blind person but our partially sighted reporter, Tom Walker, is with me as well.  I mean how does it work for you Tom?
Walker
As you say, Peter, there doesn't appear to be any discernible pattern to the buildings here at all.  And from a visual perspective, for me, having very limited vision, it's really confusing.  I regularly used to get lost and I remember on one occasion trying to find the tram stop, just getting completely and totally lost and having to get a bus just to try and rescue myself.  To be fair, there are green spaces which are welcome and I do like being near the canal.
White
Okay, but then neither you nor I, Tom, are architects nor ever likely to be.  But now that assumption is coming under challenge.
Architecture Beyond Sight is a project being run at the Bartlett School of Architecture, part of University College, London.  The Dean of the School, Professor Alan Penn, explained what it is he's trying to do.
Penn
I have been thinking about how to – actually how to challenge the visual fixation that architectural practice tends to adopt.  And I thought, well if I'm going to challenge that, what better than to talk to people with visual impairment, to see whether or not visually impaired architecture is possible and if it is possible then to think about well how would we bring in to the school people with visual impairment to train them to be architects.
White
Professor Alan Penn.
[Grunting] Oh and how could I have forgotten the delights of the revolving doors.
Well, after all that, I'm back in the warm embrace of the studio here to discuss that exciting idea of a summer school for would be visually impaired architects.  That's definitely happening and to find out more about it I've been joined by Mandy Redvers-Rowe, artist, writer, who's one of the visually impaired coordinators of the course and on the line from Lisbon Carlos Mourao-Pereira, living proof that it is possible to be a visually impaired architect.  He's continued to do the job and to train and to teach since losing his sight.
But Mandy Redvers-Rowe, if I can come to you first.  Tell me a bit more about this summer school project and your own involvement.  Is this – it is really happening, it's not just a gleam in a dean's eye?
Redvers-Rowe
No, it really is happening.  So, I've been part of the DisOrdinary Architecture Project for just over a year but the DisOrdinary Architecture Project has been running for – I think since 2008.  And the idea of that is to get disabled artists to work with architecture students to think creatively about inclusion and access.  So, rather than just thinking of the baselines of the sort of building regs and the minimum requirements, we encourage architecture students and hopefully future architects to think about all the creative possibilities of good design.  And I would say that good design for disabled people equals good design for everyone, much better environments.
White
Where does your own enthusiasm for architecture come from?
Redvers-Rowe
Well I've always loved buildings and actually when I was 16 and losing my sight, I did start a technical drawing course but I had to give it up after a few weeks because my eyesight just really wasn't good enough.  And so, I think, like anyone, when I realised I was visually impaired I had no idea what I was going to do, I'm one of these people that never quite knows what they're going to be doing.  And as a child I grew up drawing and I think I thought that that might be a path.  But obviously you become blind and you – or you lose enough sight for that not to be a possible, so you sort of dismiss it.  But I also got very interested in access consultancy when I worked for North West Disability Arts Forum and we started to put together access consultancy teams, which included visually impaired – myself, who's visually impaired – maybe somebody's who's deaf and maybe somebody with mobility impairment to work with an architect to look at access from a number of different impairment perspectives.  And I loved that.  And I'm also – I've been asked to talk quite a few times about buildings and space and how I feel about buildings as a blind person and how I think of the aesthetics of architectural design.  So, I've got a definite interest but no training.
White
It sounds as if you'd quite like to be on this course not just coordinating it.
Redvers-Rowe
Well lucky enough this course didn't just happen out of the blue.  Through an engagement with DisOrdinary Architecture Project we went to the Bartlett School and the Dean there said to Joss, who's the architect and Zoe, who's the other co-director, I really want to look at – could visually impaired people become architects.  And as a consequence, they funded a three-day project, which is where Carlos and I met, where we actually explored these issues with quite a few blind and visually impaired artists working with some architects and some lecturers and we played for three days, quite intensively, to explore – explore whether that could actually be a possibility, whether that could work.
White
Let me bring in Carlos.  First of all, how easy was it for you to continue with your profession after losing your sight, how did you do it?
Mourao-Pereira
First, I introduce a little about myself.  I became blind 35 years old.  I have full blindness since 2006, more than 12 years of experience of blindness.  But until the age of 35 I had fully sighted vision.  And with that I did my graduation in architecture and also, I started in a fully condition research and teaching.  And after, in the condition of blindness, I perceive it was possible to continue this three-field design practice as I did before.  I collaborated with several architects, in Lisbon with Aires Mateus, in Italy with Renzo Piano and it was possible, using my visual memory, using some other passions, to continue my architectural practice and research and teaching.
White
Carlos, what kind of adaptations have you had to make with your work?
Mourao-Pereira
I draw in a plastic film which produces an instant tactile drawing.  And I use physical models, Lego is good to study octagonal forms and the dots of Lego they produce dimension and this is useful for my physical models in a scale.  However, for organic forms it's better for example clay.
White
Is it very different now the way you perceive a building?
Mourao-Pereira
Yes, in a certain way because I can't see nothing at all and so I imagine, for example, colours.  And sometimes they are not the real colours but I ask a fully sighted facilitator and they describe to me the visual colours, so we can with visual memory also have the spaces I'm experiencing.
White
So, you collaborate a lot with sighted people.  How can you be sure that they've got the message that you're trying to get across?
Mourao-Pereira
I ask two or three people to – it would be possible at triangulation, no?  In my opinion if the space is good regarding all potential modalities beyond vision, is also a nice and visually appealing space.
White
You obviously use your visual memory a great deal.  Do you think someone like me, who was born blind, could become an architect and find a job?
Mourao-Pereira
This is a good research question and…
White
What's your opinion though, what do you think?
Mourao-Pereira
It's important not to exclude the visually impaired from architecture education.
White
Carlos, thank you very much indeed.
I want to ask Mandy, how realistic do you think this idea is?  I mean do you think you're going to find 12 people who actually are confident enough to do this and have a go?
Redvers-Rowe
We really want to.  In terms of confidence, one of the aims of the project is to improve people's confidence, that they have the ability to create design and to have…. I mean I think as blind people, somebody pointed this out to me the other day, I don't know about you, Peter, but to work out our mobility in a building we have to understand the shape of that building, so that we can work out where we're going and what room we're going to and how the rooms interconnect.  So, basically, I always have a visual – the first thing I work out when I'm working in a new building is basically the map, the visual plan of the building, I place it in my head so I can navigate that building.  So, I think we're all probably natural architects.
White
Well you may be, I'm not sure I am.  But Mandy Redvers-Rowe and Carlos Mourao-Pereira, thank you very much indeed.
And that's it for now but we are going to continue talking about our relationships with buildings and about people's expectations of what visually impaired people can and can't do as part of an extended podcast this evening.  You'll find that on our website.  And don't forget there's now a dedicated number where you can leave us voice messages, we're enjoying getting your messages about all sorts of things, the number is 0161 8361338 – 1338.
That's it, from me, Peter White, producer Lee Kumutat and the team, goodbye.