Main content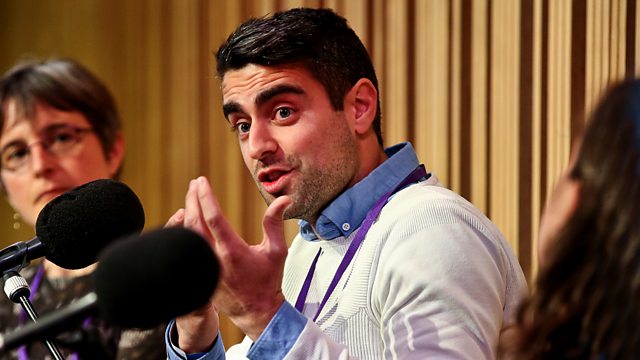 The Unsaid
A graphic novelist, a writer, a film-maker who stopped speaking, and a writer and trustee of the North East Dads and Lads project debate what you can and can't say in life and art.
Some people, some times, just can't say what they want to. But why not? We attempt to fill the silence by exploring the psychological, physical, or cultural reasons with a graphic novelist, a writer, a filmmaker who stopped speaking, and a writer and trustee of the North East Dads and Lads project. Eleanor Rosamund Barraclough chairs a Free Thinking Festival debate at Sage Gateshead.
Sarah Moss is a novelist and Professor at the University of Warwick. Her most recent book Ghost Wall articulates the tangled space of love, abuse and resistance. Her previous novels include Cold Earth, Night Waking, Signs for Lost Children and The Tidal Zone. She has written for The Guardian, New Statesman, The Independent and BBC Radio.
Michael Richardson is a Lecturer in Human Geography at Newcastle University. He has longstanding research interests in masculinities and intergenerational relationships on post-industrial Tyneside. He is a trustee of North East Young Dads and Lads project and works closely with Seven Stories: The National Centre for Children's Books.
Harriet Shawcross is an award-winning filmmaker and journalist. Her first book Unspeakable reflects on how, as a teenager, she stopped speaking at school for almost a year, communicating only when absolutely necessary. It mixes personal experience with travel diaries and interviews including Eve Ensler creator of The Vagina Monologues.
Una is a comics artist and writer. Her first graphic novel Becoming Unbecoming is about Una's own encounters with sexual violence and survival. Her other titles include On Sanity: One Day In Two Lives and Cree, commissioned by New Writing North and Durham Book Festival.
Producer: Luke Mulhall
Last on
Broadcast

Featured in...
Angry politics, what we can't say, being diplomatic, weeping, emotion in music, film & TV

Creativity, performance, debate