Main content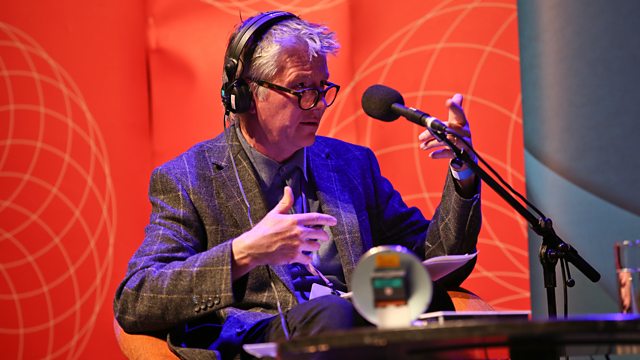 Free Thinking Festival
Tom Sutcliffe with the filmmaker Harriet Shawcross, US diplomat William J Burns, musician Kathryn Tickell and academic Thomas Dixon
At the Free Thinking Festival at Sage, Gateshead Tom Sutcliffe presents a special edition exploring the art and science of communication. The American diplomat William J Burns played a central role in American foreign policy from the end of the Cold War to the collapse of relations with Putin's Russian, and including secret talks with Iran. He explores the language of diplomacy.
Harriet Shawcross is an award-winning filmmaker and journalist. She reflects on how as a teenager she stopped speaking for almost a year. In her book Unspeakable she considers the power of silence.
The musician and composer Kathryn Tickell roots her work in in the landscape and people of Northumbria. She is the foremost exponent of the Northumbrian pipes, and tells the story of Northumbria with - and without - words.
Thomas Dixon studies emotional outbursts as the director of the Centre for the History of Emotions. He unveils the scientific and philosophical underpinnings of anger and weeping.
Producer: Katy Hickman
William J. Burns
Ambassador William J. Burns is known as America's 'secret diplomatic weapon'. Having served five presidents and ten secretaries of state, he has been central to the past four decades' most consequential foreign policy episodes. Now retired from the US Foreign Service, he is President of the Carnegie Endowment for International Peace.

The Back Channel: American Diplomacy in a Disordered World is published by Hurst

Harriet Shawcross
Harriet Shawcross is an award-winning filmmaker and journalist.

Unspeakable – The Things We Cannot Say is published by Canongate

Kathryn Tickell
Kathryn Tickell is widely acclaimed as the world's foremost exponent of the Northumbrian pipes. She is a composer, performer, educator and successful recording artist whose work is deeply rooted in the landscape and people of Northumbria. In 2015 she was awarded the OBE for services to folk music. Kathryn is a regular presenter for BBC Radio 3's "Music Planet", broadcasting live with sessions from the biggest international names in roots-based music.
Kathryn Tickell currently tours with her new band The Darkening to promote their new album Hollowbone, released on 5th April
Thomas Dixon
Thomas Dixon was the first director of Queen Mary University of London's Centre for the History of the Emotions, the first of its kind in the UK. He is currently researching anger and has explored the histories of friendship, tears, and the British stiff upper lip in books
Weeping Britannia: Portrait of a Nation in Tears
and
The Invention of Altruism: Making Moral Meanings in Victorian Britain.
Thomas Dixon is giving the Free Thinking Lecture 2019 on Friday 29th March.