Main content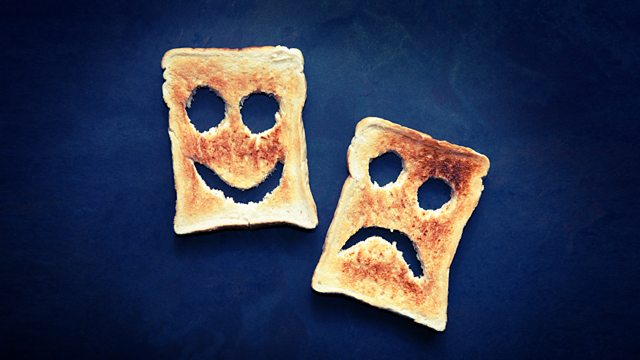 So Emotional
A journey through our seven universal emotions in the company of readers Iain Glen and Brid Brennan.
There are seven universal emotions: happiness, sadness, anger, fear, disgust, surprise and contempt. Readers Brid Brennan and Iain Glen take us on an emotional roller coaster with words ranging from the 17th century lusciousness of Milton to the high impact sparseness of 'insta-poet' Rupi Kaur.
Our emotional journey begins with the laughter of a four year old, Judy Garland bidding us to 'Get Happy' and Jack Underwood's touching portrait of Happiness. But sadness has a beauty of its own and Milton hails Melancholy, while the 14th century mystic Margery Kempe immerses herself in the misery of Christ's suffering. No one does misery like Morrissey so The Smiths are here to tell us: Heaven Knows I'm Miserable Now. Dylan Thomas and Elvis Costello deliver some explosive anger, while Dorothy Parker and Lulu have a surprise for their disappointing lovers. Roald Dahl's truly disgusting description of Mr Twit's beard will put you off extravagant facial hair for life, while Henry James and Benjamin Britten deliver the fear-factor in the spine-chilling Turn of the Screw. Our emotional journey ends with the chillingly inhuman contempt of Brett Easton Ellis' American Psycho and a look back to the medieval practice of fasting to fine-tune human emotions.
You can find a collection of discussion programmes exploring different emotions recorded at the 2019 Free Thinking Festival in a collection on the programme website
https://www.bbc.co.uk/programmes/p07vq5kw
Readings:
Jack Underwood: Happiness
Aatish Taseer: Extract from The Twice Born: Life and Death on the Ganges
Milton: Extract from Il Penseroso
John Clare: I Am!
Margery Kempe translated by Barry Windeatt: Extract from The Book of Margery Kempe
Rupi Kaur: What is Stronger than the Human Heart?
Dylan Thomas: Not This Anger
Charlotte Brontë: Extract from Jane Eyre
Ted Hughes: Crow Blacker Than Ever
Roald Dahl: Extract from The Twits
Sara Teasdale: Fear read by Iain Glen
Henry James: Extract from The Turn of the Screw
Dorothy Parker: Surprise
Bret Easton Ellis: Extract from American Psycho
Translated by Hetta Howes: Extract from Speculum Sacerdotale
Producer: Georgia Mann
Last on

Music Played
Timings (where shown) are from the start of the programme in hours and minutes
Jack Underwood

Happiness read by Brid Brennan

Aatish Taseer

Extract from The Twice Born: Life and Death on the Ganges read by Iain Glen

Milton

Extract from Il Penseroso read by Brid Brennan

John Clare

I Am! read by Iain Glen

Margery Kempe translated by Barry Windeatt

Extract from The Book of Margery Kempe read by Brid Brennan

Rupi Kaur

What is Stronger than the human heart? Read by Iain Glen

Dylan Thomas

Not This Anger read by Iain Glen

Charlotte Brontë

Extract from Jane Eyre read by Brid Brennan

Ted Hughes

Crow Blacker Than Ever read by Ted Hughes

Roald Dahl

Extract from The Twits read by Iain Glen

Sara Teasdale

Fear read by Iain Glen

Henry James

Extract from The Turn of the Screw read by Brid Brennan

Dorothy Parker

Surprise read by Brid Brennan

Brett Easton Ellis

Extract from An American Psycho read by Iain Glen

Translated by Hetta Howes

Extract from Speculum Sacerdotale, collection of fifteenth-century sermons, read by Iain Glen

Broadcasts