Main content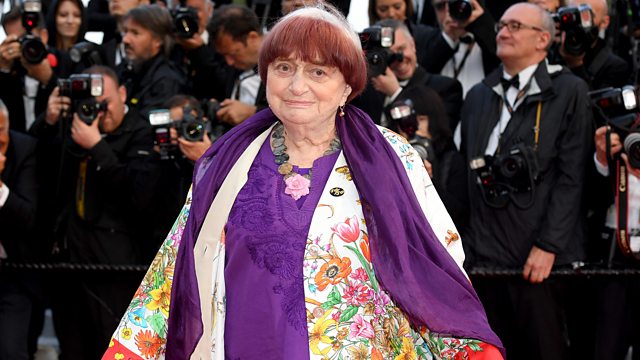 Michel Bacos, Agnes Varda, Victor Hochhauser CBE, Barbara Low, Ranking Roger
Matthew Bannister on pilot Michel Bacos, film director Agnes Varda, impresario Victor Hochhauser, biochemist Barbara Low and singer Ranking Roger.
Pictured: Agnès Varda
Matthew Bannister on
Michel Bacos, the pilot of the Air France jet that was hi-jacked to Entebbe in 1976. He was offered the chance to leave, but chose to stay with the hostages until they were freed in a dramatic raid by the Israelis.
The film director Agnès Varda, known as the mother of the French New Wave.
The impresario Victor Hochhauser who specialised in bringing top Russian artists to the UK.
The biochemist Barbara Low who used X-ray crystallography to identify the structure of penicillin.
Ranking Roger, the singer and frontman of the 70s ska revival band The Beat.
Interviewed guest: Rosemary Bacos
Interviewed guest: Paul Martin
Interviewed guest: Terri White
Interviewed guest: Norman Lebrecht
Interviewed guest: Helen Berman
Interviewed guest: Pauline Black
Producer: Neil George
Archive clips from: Raid on Entebbe, directed by Irvin Kershner, 20th Century Fox Television, Edgar J. Scherick Associates, 1977; La Pointe Courte, directed by Agnès Varda, Ciné Tamaris, 1956; Cléo from 5 to 7, directed by Agnès Varda, Ciné Tamaris, Rome Paris Films, 1962; Front Row, Radio 4 13/07/2018; Today, Radio 4 30/03/2019; In Tune, Radio 3 17/11/2017; Liz Kershaw, 6 Music 09/07/2016.
Michel Bacos
Born 3 May 1924; died 26 March 2019, aged 94.
Last Word spoke to his wife Rosemary Bacos, and former BBC foreign correspondent Paul Martin.
Agnès Varda
Born 30 May 1928; died 29 March 2019, aged 90.
Last Word spoke to Terri White, Editor in Chief Empire magazine.
Victor Hochhauser CBE
Born 27 March 1923; died 23 March 2019, aged 95.
Last Word spoke to his friend, music critic Norman Lebrecht.
Barbara Low
Born 23 March 1920; died 10 January 2019, aged 98.
Last Word spoke to her former pupil and friend Helen Berman, Professor Emerita of Chemistry and Chemical Biology at Rutgers University.
Ranking Roger
Born 21 February 1963; died 26 March 2019, aged 56.
Last Word spoke to Pauline Black, singer, actress and broadcaster.