Main content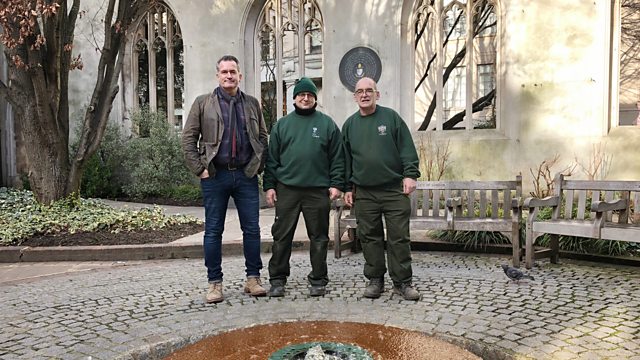 East Hampshire
Eric Robson and panel answer the questions from East Hampshire.
Eric Robson and panel answer questions from East Hampshire. Joining Eric this week are Chris Beardshaw, Pippa Greenwood and Bob Flowerdew.
The panellists discuss the best ways to prune woody plants, suggest fruit trees to be grown against a wall and come up with unusual plants and shrubs for acidic soil.
Aside from the questions, Matthew Wilson is at St Dunstan in the East Church Garden in the City of London, finding out about this special garden which evolved after the Blitz.
Produced by Dan Cocker
Assistant Producer: Jemima Rathbone
A Somethin' Else production for BBC Radio 4
Fact Sheet
Q1 – How to prune 3 Yucca trees, 14ft (4.2m) high.
Pippa – It's not a Yucca – it's Cordyline
Bob – These are old, most likely will die and fall over, and young new shoots will come up from the ground. You can chop down or wait for them to fall.
Q2 – Can I prune plants like Potentilla, Berberis woody plants quite hard to ground level if they've become misshapen?
Chris – Yes. Do it sensitively, and once they've finished flowering.
Q3 – Large horse chestnut tree whose leaves have been used for compost. The leaves have now been hit with Leaf miner moss – can I still use the leaves as a leaf mould, can I compost them, or should I just burn them?
Pippa – If you're getting reasonable temperatures in your leaf mould, you should be killing them off. I wouldn't say it's a risk, but I would err towards other leaves.
Chris – If any doubt, compost again, or put leaves into an incinerator, collect the ash and then reapply the ash to areas around fruit bushes and trees.
Q4 – Acid sandy soil, surrounded by mature 'Scots pine' and deciduous trees, so it's very shady. Lots of Rhododendrons and Camellias but can the panel suggest any other unusual shrubs and herbaceous plants which might succeed?
Bob – Strawberries, they don't need direct sun, and love acidic conditions and pine needles.
Pippa – How about Kalmia and Fothergilla, both love a degree of acidity. Many Magnolias if there's enough sun. Also, bag up the pine needles as they are excellent slug deterrents.
Chris – Start with a tree canopy, Nyssa sylvatica. At shrub level, Parrotia, Disanthus, and at the bottom if the soil is moist enough, throw in some Meconopsis – my favourite is Nepaulensis.
FEATURE –
Azara trees from Chile and Argentina
Drimys winteri – used for medicinal properties, high in Vitamin C
Q5 – West facing wall – can the panel suggest any fruit tree ideas to grow against it?
Bob – Grapevines; trail it up and along the top so you can grow more underneath. 'Doyenne du Comice' and 'Beurré Hardy' pears. I'd also try a morello cherry and a redcurrant.
Pippa – Peaches, although could be difficult to prune against a wall. Apricots – in particular 'Flavourcot'.
Chris – 'White Marseilles' figs. Don't be afraid to be more exotic – pomegranates, kiwi fruit, passion fruit.
Q6 – What plants would the panel recommend to avoid soil erosion on a steep bank, which gets sun only in the evening.
Bob – 'Pampas grass'
Pippa – Herbaceous perennials – herbaceous geraniums, interspersed with bulbs.
Chris – Trachystemon orientalis
Q7 – 'Wollemi pine' has spent past 10 years in a pot, but suffered in last year's cold weather. All the top growth has died but plenty of new growth lower down. Should I leave it as it is, or cut back to the new growth?
Chris – Definitely cut back to the new growth.
Q8 – Four tulip trees planted in 1900; three trees have now died, and the only one still standing is at the top of a chalk hill but looking stressed. What can we do?
Chris – Firstly, get arboriculturalists to come and have a look to ensure there's nothing untoward in the canopy or root zone. Then often a very heavy prune will rejuvenate growth. Could even get someone to come with an aerator.
Q9 – What arch enemy plants have the panel had to deal with, and how did they do it?
Pippa – Invading bracken, stinging nettles, brambles, docks, thistle – the list goes on. It's just a case of dealing with a balance.
Chris – Cleaver; can pull it up, but best thing is to let the hens loose on it.