Main content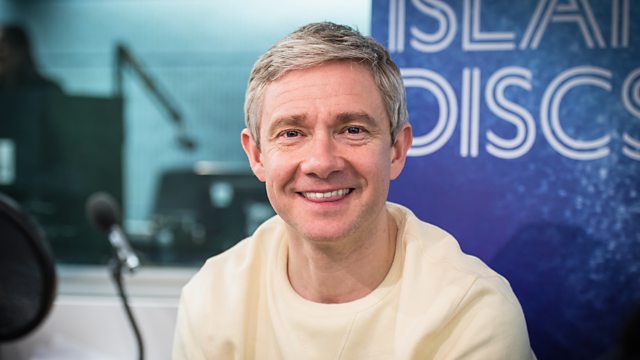 Martin Freeman, actor
Martin Freeman, actor, shares the eight tracks, book and luxury he would take with him if cast away on a desert island. With Lauren Laverne
Martin Freeman is a multi-award winning actor, best known for his roles as the lovable Tim in BBC Two's The Office and as Dr Watson to Benedict Cumberbatch's Sherlock Holmes. He also played Bilbo Baggins in Peter Jackson's Hobbit trilogy, Lester Nygaard in the US drama series Fargo and Everett K Ross in the film Black Panther.
Born in Hampshire in 1971, he grew up in Teddington in south-west London. The youngest of five children, he was just 10 when his father died of a heart attack. As a teenager, he played competitive squash, making the national squad, until he realised he lacked the necessary killer instinct required and switched to youth theatre.
He studied at the Central School of Speech and Drama and left in his third year to work at the National Theatre, playing minor roles. He first reached a wider audience when he was cast as Tim in The Office, which was broadcast from 2001 to 2003 and became the first British sitcom to win a Golden Globe. More screen roles followed, including playing Arthur Dent in the film of The Hitchhiker's Guide to the Galaxy. In 2010 he first appeared as Dr Watson opposite Benedict Cumberbatch's Sherlock and went on to win both a BAFTA and an Emmy as Best Supporting Actor. He has continued to work in films, TV and on stage.
He appeared in Sherlock with his ex-partner Amanda Abbington. They have two children.
BOOK CHOICE: Animal Farm by George Orwell
LUXURY: Tea-making Facilities
CASTAWAY'S FAVOURITE: Strawberry Fields Forever by The Beatles
Presenter: Lauren Laverne
Producer: Cathy Drysdale
Last on
Music Played
The Clash

Janie Jones

The Story Of The Clash.
Sony.

Madness

Baggy Trousers

Absolutely.
Union Square Music.
1.

Bob Marley & The Wailers

Natty Dread

Songs Of Freedom.
Universal-Island Records.
17.

Leonard Bernstein

Dance At The Gym

West Side Story (Original Motion Picture Soundtrack).
Sony Classical.
4.

The Beatles

Strawberry Fields Forever

Magical Mystery Tour.
Parlophone.
8.

Henry Purcell

When I Am Laid In Earth

Orchestra: Orchestra of the Age of Enlightenment. Singer: Lynne Dawson. Conductor: René Jacobs.

Purcell: Dido and Aeneas.
EMI.
38.

The Style Council

Walls Come Tumbling Down

Our Favourite Shop.
Polydor.
14.

Stevie Wonder

Jesus Children Of America

Innervisions.
Universal-Island Records.
Broadcasts