Main content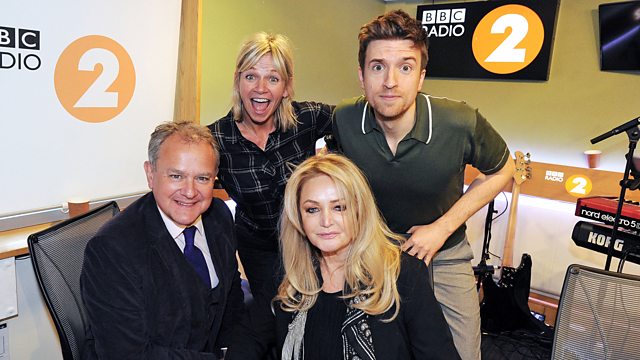 Bonnie Tyler, Greg James and Hugh Bonneville
Greg James and Hugh Bonneville joins Zoe for a star-studded breakfast! Plus live music from Bonnie Tyler in the studio!
Wake up to a star-studded breakfast with Zoe Ball! Greg James joins Zoe to talk about his book Kid Normal and the Shadow Machine, Hugh Bonneville will be chatting about playing C.S. Lewis in the play Shadowlands at The Chichester Theatre plus Bonnie Tyler is performing live in studio with brand new music!
Along with Tina Daheley on news, Richie Anderson on travel and Mike Williams on sport, she and the team have the best start to your morning. With celeb guests, quizzes, headlines, tunes chosen by listeners, and more music that you can shake a glitterball at!
There's also weather with Carol Kirkwood, a daily Pause For Thought and listeners on the line, as Zoe entertains the nation with fun for the family!
Pause For Thought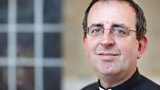 From the Reverend Richard Coles:
 Very excited that Downton the movie is coming, and we'll all thrill to find out which of the Earl of Grantham's daughters has run off with a sword swallower; or if Mr Carson's been invalided out with raised eyebrow syndrome; or if the Dowager Countess's pearls have got stuck in a mangle. Can't wait, but then I've alway felt a certain sympathy for Lord G. Clergy, like aristocrats, are merely occupants of roles that were there before them and will be when they've gone; he's the seventh Earl of Grantham, I'm the 59th Vicar of Finedon, just another notch on the bedpost.
And because of the history we're haunted, by the past, by our predecessors, by the passage of events. And by ghosts.I don't know about Downton, but Finedon is thick with them. Holly Walk, planted in the eighteenth century, is haunted by the Grey Lady. The Hall has the Black Lady (perhaps the former just an underexposed version of the latter?). The ghosts at the Charity School drew crowds in 1824; and we've the ghost of a man killed by Cromwell's troops after the Battle of Naseby. We all like a good story, and you can make of these what you will. I sometimes think ghosts are faint traces of past trauma, that we make visible because they express dormant anxieties, tensions, hostility. 
 Mostly they lie under the surface, but at times of crisis they bubble up, like in the Civil War of the 1600s. Some say, we're heading for a similar situation today. Are we? Leavers and Remainers are not Roundheads and Cavaliers, we are not fighting in the fields of Northamptonshire, nor laying siege to Lyme Regis. But we are bitterly divided.Vicars, like Earls, tend to take a long view of history, it comes with the job. And when I look at the imprint of history in my own parish, from the eleventh century to the present, I see a pattern repeating. 
 It's best expressed by the answer a desert monk of the 4th Century gave to a traveler who wanted to know how he and his brethren lived: he said, "we fall apart, we come together again; we fall apart, we come together again; we fall apart, we come together again". What goes down must come up - counterintuitive wisdom (and never mangle in pearls).