Main content
Swansea call centre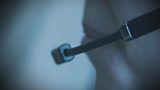 CCTV footage taken inside a Swansea call centre shows how staff lied to customers in a corporate culture obsessed with money.
Company bosses were spending thousands in the city's nightclubs while operating the cold calling frauds.
REC Home Audits called potential customers offering "free" boilers under a "government scheme". They took upfront fees of £299 or £399 – but only three of around 1,200 customers ever got boilers.
Those three were all elderly and ended up paying for the boilers with 12 year credit agreements.
CCTV seized by Swansea Trading Standards after raiding the premises in 2014 and seen by X-Ray showed a manager shouting at his team:  "What motivates you?
The team reply:  "Money".
 The manager adds: "Deals, and without deals none of us are going to get any f****** money are we?"
Video footage also shows pressure selling tactics – including one operator pretending to consult with a manager over a special offer while he was vaping and boasting to a colleague about the scam he was operating.
Rhys Harries from Swansea Trading Standards told X-Ray: "They were using all sorts of techniques to try and manipulate people in to taking it out. They would pressurise people constantly. "They would put pressure and pressure and pressure."
The company was making up to £50,000 a week while it was operating in 2014
"They were going out on a Saturday night, and spending £4- 5,000 on Wind Street with the staff, taking them out, treating them. So that's where a lot of consumer's money was going," said Mr Harries. 
After a four year investigation and a trial at Swansea Crown Court the company's directors Kyle Lewis, Darren Palmer and David Alford and its compliance manager Jason Cunliff were all found guilty of conspiracy to defraud.  They are due to be sentenced on April 15.
One of the company's victims, Sonja Owen, from Rhymney – who paid £299 and only got a survey of her house, said:  "I hope that they get sentenced and their assets taken off them, and they should be made to pay everybody back. Not only us, but everybody they've scammed."
Taylor Wimpy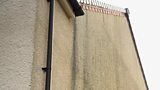 Homeowners, who spent more than half a million pounds on their new homes in Cowbridge, are demanding their builders put right what they say are problems with their roofs.
Taylor Wimpey built the Scholar's View development seven years ago on the site of a former school. Buyers were promised a 'touch of luxury in an exclusive location' – but one homeowner has told X-Ray there is a defect with her roof that could prove costly.
Teacher Meryl Burrough bought a five bedroom house at the site for £650,000 in 2014.
She said: "As soon as I saw it, I thought it was really nice. I loved the pillars outside I liked the sort of double bay frontage as well. So I went down to the sales office and literally thought it's now or never."
But less than a year after buying the house there were problems. She noticed dark streaks appearing on one of the outside walls.  
"As winter took hold this streaking pattern from the roof started to sort of get worse," Meryl explained. 
"The rainwater was coming down through gaps in the tiles because they're too far apart coming down the brickwork and then down the walls. And over time it is becoming stained with black." 
Despite complaining repeatedly to Taylor Wimpey, the problem has persisted for the last five years. Her home was covered by a 10 year warranty from the National House Building Council (NHBC), so Meryl turned to them.
She said: "The NHBC and Taylor Wimpey refused to acknowledge that there was a defect with the roof, not just of my house but all the ones in this development."
The NHBC told her the issue wasn't covered by their warranty because she hadn't reported the problems to her builder in the first couple of years after she'd bought the house.
Meryl is one of a number of homeowners on the development complaining of similar problems. In the end, she called in surveyor Tim Davies to take a look at the issues. His attention was drawn to the "verge closures" which seal around the side of the roof. 
He said that the verge closers that Taylor Wimpey had used were "incorrect and badly fitted."
Mr Davies said this was allowing the rainwater to run down the wall and cause the cosmetic staining.
"Eventually if you get frost behind the render it will blow the render off and you're then into a big repair," he added.
In his view these problems should be covered by the NHBC's ten year guarantee.
Taylor Wimpey, however, say they're sorry customers aren't happy with their homes, but that they've done everything demanded by the NHBC. The NHBC say they surveyed the properties earlier this year and found that the dry verge systems had been fitted correctly.
Credits
| Role | Contributor |
| --- | --- |
| Presenter | Lucy Owen |
| Presenter | Rachel Treadaway-Williams |
| Series Producer | Nick Skinner |