Main content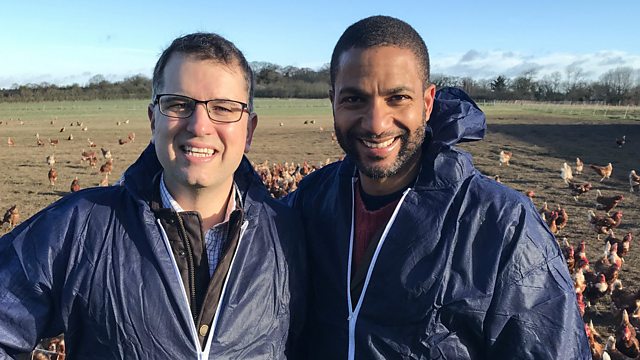 Food Compilation
Sean is in Oxfordshire meeting farmers with a passion for our more unusual produce, from picklers to cheesemakers.
Across the country, farmers are working hard to provide us with the bulk of our food – from chicken and beef to peas and potatoes. But there are many individuals producing the more unusual foods we like to indulge in from time to time. Sean is in Oxfordshire meeting those with a passion for our more unusual produce, from picklers to cheesemakers. He'll be on the hunt for the perfect ingredients to make that most traditional of British meals - a hearty ploughman's, with a twist.
We'll also be looking back through the archive to some of the foodies championing the more extraordinary edibles – from the time John met the kelp grower in Northern Ireland to when Anita helped harvest peppermint; from Matt, pulping pears for Perry, to Adam harvesting a spice worth its weight in gold.
Free-Range Eggs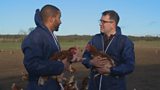 Sean pays a visit to a Witney-based farm which sells its free-range eggs across Oxfordshire - and he's looking to collect some for pickling for his Ploughman's lunch. 
As he arrives early in the morning, he's there in time to see the amazing sight of James Lyall letting his hens out for the day...
Pickled Eggs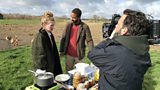 Sean meets Fiona Cranston, who pickles a variety of local seasonal produce in all the colours of the rainbow. 
Stood in a windy field, Sean tries his hand at making Fiona's legendary curried pickled eggs.  
Sourdough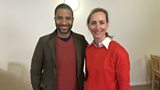 Next on the menu is a true staple – bread! 
Sean meets Judith Starling, aka the Wild Baker, and finds out the difference between sourdough bread made with a starter and commercial bread. 
Sean has a go at a technique called stretching and folding which makes for a springier sourdough loaf!
Goat's Cheese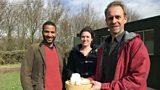 Sean goes in search of some goat's cheese for his Ploughman's lunch. 
Husband and wife Fraser Norton and Rachel Yarrow took on the huge challenge of learning both how to make their own cheese and how to farm goats back when they first set up their business.
Sean gets hands on in the dairy, which is in in two converted shipping containers, and learns just what makes a tasty goat's cheese.
Cured Meats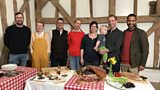 Sean meets up with chef Ben Dulley who now runs his own meat curing company. 
Ben uses rare bread pigs and local produce in his salami and nduja and, after trying some, Sean is keen to include them in his Ploughman's.
Credits
| Role | Contributor |
| --- | --- |
| Presenter | Sean Fletcher |
| Series Producer | Becky Pratt |
| Executive Producer | Bill Lyons |