Main content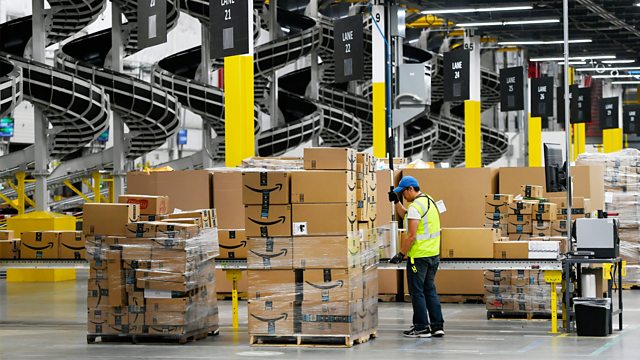 Unpaid carers, Amazon expansion, Junk food advertising
The people juggling work with caring for relatives. How Amazon is expanding its operations and creating more jobs. Banning junk food adverts before the watershed.
One in seven people are now juggling their job with caring for relatives. More than half of unpaid carers are over 50 and most are women. That's according to new analysis from the Office for National Statistics. In the last five years, the number of people giving up work to care has also risen by 300,000 - that's a 12 percent increase since 2013. We speak to two women about how they balance caring for older family members with the demands of their job. We hear from Emily Holzhausen from the charity Carers UK about what employers and the Government need to do to help people with caring responsibilities remain in the workplace.
The online retailer, Amazon, has You & Yours it's expanding its operations in Manchester, Edinburgh, Cambridge, and Bristol, creating more than a thousand jobs.
It comes as new research by Mintel suggests nine out of 10 of online shoppers regularly buy something from Amazon. Seventy per cent said they use Amazon at least once a month, while just under a fifth buy something every week. Our reporter, Jess Quayle, goes behind the scenes at one of Amazon's biggest UK warehouses in Doncaster, South Yorkshire, to find out more.
We report on new research about the impact of banning adverts for junk food before the watershed from TV and online. Earlier this month the Government started a consultation on banning adverts for unhealthy food, with high sugar, salt and fats before 9pm. But economists say children are likely to carry on seeing adverts for junk food - even if they are banned. They also question whether a ban would be effective in helping to reducing childhood obesity.
We speak to Martin O'Connell from the Institute for Fiscal Studies and Stephen Woodford from the Advertising Association.
Presenter: Peter White
Producer: Tara Holmes
Last on
Broadcast