Main content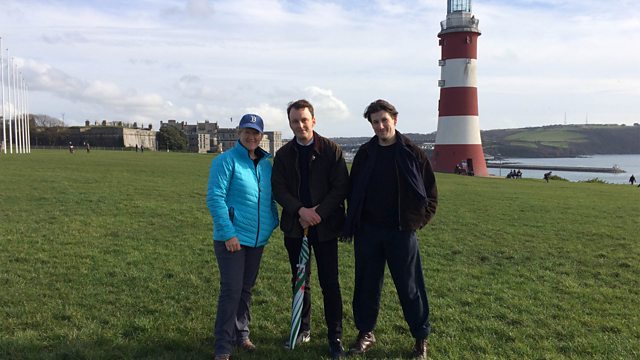 Clare Balding hears some wonderful and unlikely stories about lighthouses on a walk around Plymouth. She is joined by author Tom Nancollas and his friend Michael O'Mahony.
Clare is walking to a land-based lighthouse on today's Ramblings. Smeaton's Tower was originally on the Eddystone Reef, twelve miles out to sea on Plymouth Sound but when it was replaced by a new structure in 1882, the Tower was moved onshore and now stands on Plymouth Hoe. Tom Nancollas is Clare's guide. He has written a book - Seashaken Houses - which tells of his passion for lighthouses and their many extraordinary stories. Also joining them on the walk is Tom's friend Michael O'Mahony. He joined Tom on two of his research trips to lighthouses, which, as he recalls, ended in an undignified fashion!
On their walk, Tom discusses his fascination for lighthouses and a strange family coincidence that emerged unexpectedly during his research: he discovered an ancestor had visited Smeaton's Tower before him – as part of the team who dismantled the tower and moved it to the mainland.
They start their walk by the Devonport Column, take in interesting parts of Plymouth and its coastline and end at the distinctive red and white 'winning post' of Smeaton's Tower itself.
If you're reading this on the Radio 4 webpage, you can scroll down to the 'related links' section to find out more, including about Tom's book.
Producer: Karen Gregor
How the granite blocks were interlocked in Smeaton's Tower