Main content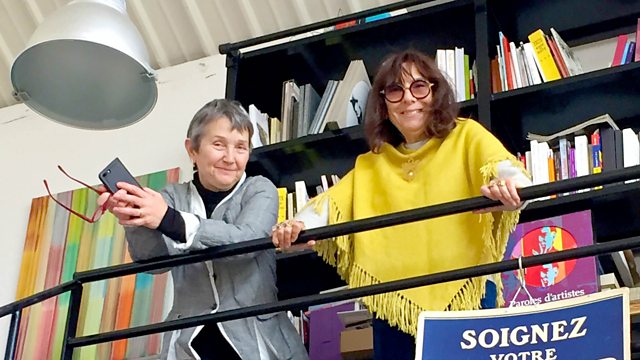 Making Art with Frances Morris: Sophie Calle
Frances Morris travels to Paris to meet mischievous French artist Sophie Calle. Her studio is a cabinet of curiosities, including the head of a giraffe who represents her mother.
Frances Morris, Director of Tate Modern, meets French artist Sophie Calle in her studio in south west Paris.
The studio is a cabinet of curiosities, with an incredible array of intriguing objects including stuffed animals, one of which, the head and shoulders of a giraffe, represents the artist's mother - while a tiger is her father and the zebra, her cat Souris.
Sophie Calle is a visual artist, who recently produced an album of songs by 40 international musicians, in memory of her dead cat Souris. There's Jarvis Cocker, Juliette Armanet, Bono, Michael Stipe to name a few. She's made work out of her mother dying or her boyfriend ditching her. She's had a job as a stripper, made a crazy road movie called No Sex Last Night. She's contacted everyone in a lost address book she found on the street. She's asked people to describe their most exquisite pain, invited strangers to attend the funeral of their secrets. She's asked museum staff to remember stolen paintings, blind people to describe the most beautiful thing they've seen. And although the work seems apparently dry - images and texts, books - it's deeply personal for those involved, and for us - the viewer.
Sophie works with real life experiences we can all relate to – the death of a parent, the end of a relationship. Her work resonates with her preoccupations - death, absence, the mourning of the passing of life. "Growth is a series of mournings."
Frances Morris is fascinated to enter the inner sanctum of this avid artist who is famously controlling and who devises and implements "rules of the game". "Who will be interviewing who?" she asks en route to Paris.
Produced by Kate Bland
A Cast Iron Radio production for BBC Radio 4