Main content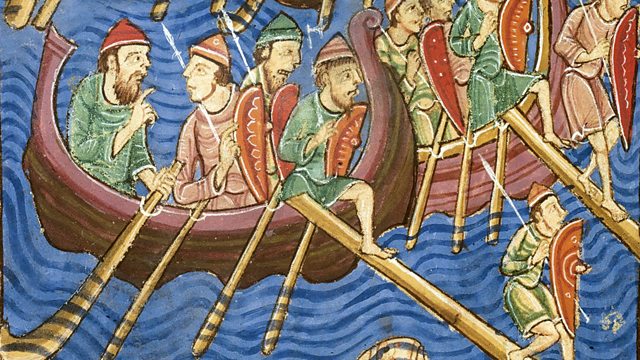 The Danelaw
Melvyn Bragg and guests discuss how a series of Danish invasions, settlements and battles with Anglo-Saxons changed England in the 9th and 10th centuries.
Melvyn Bragg and guests discuss the effective partition of England in the 880s after a century of Viking raids, invasions and settlements. Alfred of Wessex, the surviving Anglo-Saxon king and Guthrum, a Danish ruler, had fought each other to a stalemate and came to terms, with Guthrum controlling the land to the east (once he had agreed to convert to Christianity). The key strategic advantage the invaders had was the Viking ships which were far superior and enabled them to raid from the sea and up rivers very rapidly. Their Great Army had arrived in the 870s, conquering the kingdom of Northumbria and occupying York. They defeated the king of Mercia and seized part of his land. They killed the Anglo-Saxon king of East Anglia and gained control of his territory. It was only when a smaller force failed to defeat Wessex that the Danelaw came into being, leaving a lasting impact on the people and customs of that area.
With
Judith Jesch
Professor of Viking Studies at the University of Nottingham
John Hines
Professor of Archaeology at Cardiff University
And
Jane Kershaw
ERC Principal Investigator in Archaeology at the University of Oxford
Producer: Simon Tillotson
Last on
LINKS AND FURTHER READING
Judith Jesch at the University of Nottingham
John Hines at Cardiff University
Jane Kershaw at the University of Oxford
Vikings in the East Midlands – University of Nottingham
READING LIST:
Richard N. Bailey, Viking Age Sculpture in Northern England (Collins, 1980)
Jayne Carroll, Stephen Harrison and Gareth Williams, The Vikings in Britain and Ireland (British Museum Press, 2014)
James Graham-Campbell, Richard Hall, Judith Jesch and David N. Parsons (eds), Vikings and the Danelaw: Select Papers from the Proceedings of the Thirteenth Viking Congress (Oxbow Books, 2001)
D. M. Hadley, The Vikings in England: Settlement, Society and Culture (Manchester University Press, 2006)
Richard A. Hall et al., Aspects of Anglo-Scandinavian York (York Archaeological Trust, 2005)
Judith Jesch, The Viking Diaspora (Routledge, 2015)
Jane Kershaw, Viking Identities: Scandinavian Jewellery in England (Oxford University Press, 2013)
Julian D. Richards, Viking-Age England (The History Press, 2004)
Matthew Townend, Language and History in Viking Age England: Linguistic Relations Between Speakers of Old Norse and Old English (Brepols, 2005)
Matthew Townend, Viking Age Yorkshire (Blackthorn Press, 2014)
Thomas Williams, Viking Britain: A History (William Collins, 2017)
Broadcasts

Featured in...
Browse the Early Middle Ages within the In Our Time archive.

Historical themes, events and key individuals from Akhenaten to Xenophon.