Main content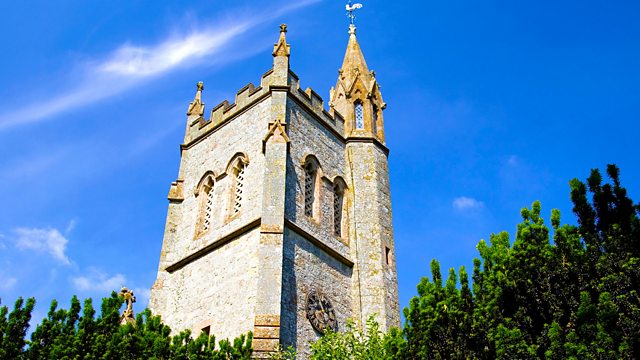 Invitation to Hope
During an epidemic of loneliness hospitality is our deepest need. Live from Kerith Community Church, Bracknell. Leader: Simon Benham; Preacher: Revd Paul Cowley MBE.
During an epidemic of loneliness hospitality is our deepest need. Live from Kerith Community Church, Bracknell as Radio 4's worship services continue their journey through Lent. In an increasingly divided society the bible calls individuals, churches and communities to build bridges between loneliness and belonging - this week, through the invitation to Hope. Reading: Luke 23.39–43​. Senior Pastor: Simon Benham; Preacher: the Revd Paul Cowley MBE of Alpha Prisons; Worship team leader: Shari Barrett; Producer: Philip Billson. A link to resources for individuals and groups can be downloaded from the Sunday Worship web pages.
Last on
Script
Please note:
This script cannot exactly reflect the transmission, as it was prepared before the service was broadcast. It may include editorial notes prepared by the producer, and minor spelling and other errors that were corrected before the radio broadcast.
It may contain gaps to be filled in at the time so that prayers may reflect the needs of the world, and changes may also be made at the last minute for timing reasons, or to reflect current events.

OPENING ANNOUNCEMENT FROM CONTINUITY
BBC Radio 4. At ten past eight it's time for Sunday Worship which on this third Sunday in Lent comes live from Kerith Community Church, Bracknell in Berkshire. The service begins as Senior Pastor Simon Benham gives the welcome.

SIMON BENHAM (introduction to In Christ Alone playing underneath)
"Good morning and welcome. Our vision here at Kerith Community Church is  to help people find their way back to God, with the message that nobody is beyond the reach of God's amazing love.  We begin by declaring that Jesus Christ is our hope, whatever our circumstances, and whatever's going on in our country or in the world, we can look to him."
In Christ Alone
 
Simon Benham (without music underneath)
As we begin our service today a prayer for our national life from the Church of England:
God of hope,
in these times of change,
unite our nation
and guide our leaders with your wisdom.
Give us courage to overcome our fears,
and help us to build a future
in which all may prosper and share;
through Jesus Christ our Lord.
ALL: Amen
"Kerith Community Church is one church which meets in four different locations, in Bracknell, in Windsor, in the Blackwater Valley and on the Isle of Wight, with over a thousand people attending on a Sunday across our four sites. We seek to help people find their way back to God in two ways. First of all by practically demonstrating God's love by serving our local community in a number of ways, which include running a Foodbank, a debt counselling centre, recovery groups for those seeking to break free from addiction, hosting a homeless shelter, running mums and toddlers groups and a thriving youth ministry. Visiting people in prison is an intrinsic part of our work. Our service today reflects on the hope that flooded into the life of a prisoner who was crucified beside Jesus. Later we will welcome Paul Cowley of Alpha Prisons to tell us about how the love of Jesus brought profound hope to his life. But we begin with a reading from Isaiah Chapter 61 – words of liberation taken up centuries after they were written by Jesus to explain his mission:
Bible Reading – Isaiah 61:1-9 (NIV UK) (Spoken over music)
READER: Sasha Maybury
This passage from the Bible is from Isaiah, chapter 61:
The Spirit of the Sovereign Lord is on me,
    because the Lord has anointed me
    to proclaim good news to the poor.
He has sent me to bind up the broken-hearted,
    to proclaim freedom for the captives
    and release from darkness for the prisoners,[a]
2 to proclaim the year of the Lord's favour
    and the day of vengeance of our God,
to comfort all who mourn,
3     and provide for those who grieve in Zion –
to bestow on them a crown of beauty
    instead of ashes,
the oil of joy
    instead of mourning,
and a garment of praise
    instead of a spirit of despair.
They will be called oaks of righteousness,
    a planting of the Lord
    for the display of his splendour.
[[[[[4 They will rebuild the ancient ruins
    and restore the places long devastated;
they will renew the ruined cities
    that have been devastated for generations.
5 Strangers will shepherd your flocks;
    foreigners will work your fields and vineyards.
6 And you will be called priests of the Lord,
    you will be named ministers of our God.
You will feed on the wealth of nations,
    and in their riches you will boast.
7 Instead of your shame
    you will receive a double portion,
and instead of disgrace
    you will rejoice in your inheritance.
And so you will inherit a double portion in your land,
    and everlasting joy will be yours.
8 'For I, the Lord, love justice;
    I hate robbery and wrongdoing.
In my faithfulness I will reward my people
    and make an everlasting covenant with them.
9 Their descendants will be known among the nations
    and their offspring among the peoples.
All who see them will acknowledge
    that they are a people the Lord has blessed.']]]
 
 
SIMON BENHAM  (intro to Great Are You Lord played underneath)
We want to be a church that reflects how God is. If we ceased to exist we hope the local community would notice the difference. But as well as practically demonstrating the love of God, we also want to boldly, lovingly and creatively  share the good news of the gospel, that through Jesus' death and resurrection there is now a way for us to be reconciled to God, to find forgiveness for our past, purpose for our present and security for our future. This God gives life, love, and light to the darkness. He restores broken hearts as our next song declares:
Great are you Lord (All Sons & Daughters)

HILARY HULME  - PRAYER (music played underneath the prayer)
Let's pray.
Dear Lord, Thank you for the gift of today. Thank you for the trust and faith we can have that you are here with us this morning. Thank you for the freedom we experience because of you. The freedom from Sin, the freedom from guilt and shame, freedom from fear. Thank you that because of Jesus' death and resurrection, we can throw off everything that hinders us and the sin that so easily entangles us - that despite who we are, and what we have done, we experience a freedom in which we can live life, and life in all its fullness.
We worship you and you only this morning Lord. The one who breaks chains of bondage, the one who sets the captives free, the one who is good news to the poor, the one who gives sight to the blind, the one who sings songs of deliverance over us today, we worship you in Spirit and in Truth today.
As we take time this morning to honour the incredible work that our brothers and sisters in Christ do in prisons to love those whose freedom has had to be taken away, will you remind us of how we were all prisoners, rescued and set free by your incredible love, grace, and power. As we hear about the stories of those who have been transformed in and through prison ministry, may we remember that we too have been transformed, and are still being changed into your likeness.
In Jesus' name we pray,
ALL: Amen.
HILARY HULME: (music under introduction)
Let's continue to worship now as we sing of Christ our Hope, our Cornerstone.
Cornerstone

Intro to Prison Ministry Stories (no music is played during the introduction and the start of the story)
Lent materials accompanying Radio 4's worship programmes can be found by searching Lent 2019 Bible Society. This week their theme is Invitation to Hope.
For many in our prisons there seems to be a situation of so little hope, but as we'll hear in our reading later, Jesus offered real hope to a criminal crucified alongside him. We're going to hear two powerful and parallel stories of hope through prison ministry associated with our church now. The first story is that of Lee and Sonia Brett who lead Kerith Church's ministry in two local prisons, and the second is the story  of Duane Jack. Duane spent time inside but now helps empower other prisoners for positive change: You can hear a longer version of Duane's story on the Sunday Worship website. We hear first from Lee Brett:
Prison Ministry Testimony – Duane Jack & Kerith Prison Ministry
IN: We never go out there pretending to have all the answers…
OUT: Because of the transformation that the cross can make in ones life
DUR: 2'30"
(From 2 minutes, introduction to It Is Well begins to play.)

It is Well (A)
SIMON BENHAM: (no music)
In a moment we welcome the Revd Paul Cowley OBE to give the message. When Jesus was on the cross, beside him were two criminals. Here are words from Luke chapter 23, verses 39 to 43...
Bible Reading (Luke 23:39-43) (no music) READER: Nathalie Mahatme
One of the criminals who hung there hurled insults at him: 'Aren't you the Messiah? Save yourself and us!'
But the other criminal rebuked him. 'Don't you fear God,' he said, 'since you are under the same sentence?  We are punished justly, for we are getting what our deeds deserve. But this man has done nothing wrong.'
Then he said, 'Jesus, remember me when you come into your kingdom.[a]'
Jesus answered him, 'Truly I tell you, today you will be with me in paradise.'
Message – Paul Cowley (no music)
This brief but telling passage relates one of the most amazing prayers and promises in the entire bible.
Hanging on the cross at Jesus' right and left hand are two criminals, in the Greek evil-doer, one who commits gross misdeeds and serious crimes. Bandits like these two were the terror of travellers. Those who were able, travelled in larger parties to protect themselves.
Both were bad men, both suffering a just punishment for breaking the laws. But something changed for one of them, he engaged with Jesus and his heart was changed why?
There are no excuses for crime, hard hearts or even our attitudes, but there are many reasons for them;
At the age of 17 I stood in a Manchester court room and swore upon a bible that I would tell the truth the whole truth and nothing but the truth so help me God, shortly after that lie, I was sent to prison.
• I was born and raised in Manchester, in some rough areas
• My parents were dysfunctional, unbelievers, and alcoholics.
• I was Expelled from school at 15
• Homeless at 16
• In Prison at 17
• And in the Army at 21
• Two marriages and two divorces by the age of 28
• I abandoned my son of 3 from my first marriage
• A violent, crude, drinking womanising man
• A man of bad character, dishonest, untrustworthy
• And a lot more I'd rather not go into....
• In fact I aligned well with the two men either side of Jesus.
How does a person change their ways?
My change came in 93 after a colleague in the Army became a Christian which was a real shock as he was a worse character than me, how had he changed? He had an encounter with Christ. He  encouraged me to try out an Alpha Course, during that course I had a big decision to make, after 40 years as someone who had rejected God - do I kneel and pray and see what happens or forget all this God stuff and move on?
I prayed, and it was at that moment I met with God - a bit of a shock, probably for both of us. As I didn't think God knew, cared or bothered with people like me with my type of background.
This scripture is about crime, punishment, law, attitude but it's also about forgiveness, repentance and Grace. Nowhere is the issue of change more urgent than in the area of our prisons. The extent of those affected is extraordinary, according to various independent and Ministry of justice reports on the UK prison statistics there are approximately;
• 92,500 people in prison
• 4400 of those are women
• 46% of all prisoners will reoffend within a year
• 60% of prisoners serving less than a year will reoffend
• The Cost of reoffending is approx £9/13 billion per year
• Reading and writing for most prisoners is that of an 11-year-old
• In a typical week in 2016, there were almost 600 incidents of self harm, at least one suicide, and 350 assaults including 90 on staff.
• 47% men and 31% women said it was easy to get drugs in prison
• 58% of prisons in England/Wales were overcrowded in 2018.
Not a great picture, it's better than some countries, but we still have a long way to go; Winston Churchill stated, when he was Home Secretary.
"The mood and temper of the public in regard to the treatment of crime and criminals is one of the most unfailing tests of the civilisation of any country."
How do we help the men and women in our prisons change for the better? Like the thief in our reading 'Jesus remember me when you come into your kingdom'
He didn't do a course, 12 step program, rehab, detox or counselling, these things are good, but for the thief they were not going to bring about fundamental change - in fact he did nothing external, but he changed?
The answer lies in the thief's change of attitude and that's where Christians and the church can help, for he met with the Christ.
For me the answer to the need of change lies in encountering Jesus, like the words of the Bishop in the story of Lay Miz-er -rar-bulls as he speaks to Jean Valjean, a convicted thief who abused his hospitality and stole from him.
The Bishop sees something in this man, this thief, this wretch, "he lays his hand on the man's chest and says…This night I have prayed for your soul so that no more darkness will enter it, and from now on you will do good"
Jon Val john met with christ. I have seen hundreds/1000's of men, modern day Jean Valjeans come to know Christ and turn their lives around, many through attending similar courses to Alpha which is running in over 80% of our UK prisons, and in 70  countries around the world.
Approximately 60,000  People have attended the course in a UK prison
And approximately 700,000 people have attended the course in prisons Internationally
This is happening as I speak in prisons all over the world.
I'm a prison chaplain in HMP WORMWOOD SCRUBS a B cat prison in central london holding over 1200 men and every Wednesday approximately 40/50 men are attending an Alpha course, as many hearts change the continued work of Christians in our prisons is vital
The hard part is when these people are released, they need you the church. They need our help, there are many charities caring for ex-offenders, that are meeting these men and women at the prison gate, supporting them into a new life, helping find employment, accommodation, a mentor and a supportive local church community, where they can grow into the men and women God wants them to be.
I know and I've seen first hand that Christian faith is making a real positive difference to reoffending rates.
As Churchill continued to say, what we need is:
"a constant heart-searching by all charged with the duty of punishment, a desire and eagerness to rehabilitate… and an unfaltering faith that there is a treasure, if only you can find it in the heart of every person – these are the symbols, which in the treatment of crime and criminals mark and measure the stored up strength of a nation, and are the sign and proof of the living virtue in it."
Like the thief next to Jesus recognised him as the christ, I repented, and asked for help on an Alpha course in 93.
what does change look like - for me?
· My life has changed dramatically from one of broken damaged relationships to now having long term stable loving relationships.
· I have a great restored relationship with my son.
· I have a 21-year-old daughter who only knows the new me.
· I'm now doing rewarding productive work with those on the margins of society.
· Working with those in prisons, homeless, those suffering with mental health issues, those addicted - a work I feel God has called me into.
· And I have tried to make peace with those who suffered as a result of my destructive behaviour. Finding reconciliation with those I have hurt has been a big help hopefully to them and to me.
Lent is a time of reflection, The two men on the cross either side of Jesus had a choice to make, one chose to remain hard hearted and suffered the consequences of that decision, the other opened his heart and at that point Grace, love and forgiveness flooded in and he was promised peace and eternal life. That is true to people's' life experiences today, both inside and outside of the prison context.
We don't have to wait like the man on the cross, we don't have to-be at death's door. We are all offered the free choice of living a life with Jesus now today, no matter who we are, where we come from or what we've done, the question is will we take up that offer? Amen

Performance Song – Agnus Dei (Michael W Smith, 1990)
 
Response Time of prayer (music playing underneath)
Jesus we come to you this morning, reflecting on your amazing grace for every single one of us. That even as you were suffering on the cross you made time to reach out to an undeserving thief.
 
We pray this morning for those who today are physically in prison. We pray that for them prison might be a place where, just like the thief on the cross, they discover that however desperate their situation you are a God who reaches out to us in our darkest moments with a message of hope, of restoration and of the possibility of change. And we pray for all those, like Paul, Duane, Lee and Sonia, who are going into prisons to bring that message of hope. We pray that you would bring much fruit from their endeavours, that they would be messengers of hope, and that through them the lives of many would be changed.
 
And Lord we pray for all those who although they aren't in a physical prison, feel like prisoners because of their circumstances. Those who are grieving the loss of loved ones, those struggling with addictions, those wrestling with financial debts which seem out of control, those who are lonely, those who are struggling with their mental or physical health. We thank you that you are the God who came to proclaim good news to the poor, to bind up the broken hearted, to give comfort to those who mourn, to bring light to those in darkness and to set prisoners free. Through the power of your Holy Spirit we pray that people today would find that hope which is only found in Jesus, the same hope which flooded the heart of that thief on the cross when Jesus spoke into his darkness that today he would be with him in paradise.
 
We bring all these prayers together, as we pray the prayer you taught us to pray, the Lord's prayer:
 
Our Father in heaven,
hallowed be your name,
your kingdom come,
your will be done,
on earth as in heaven.
Give us today our daily bread.
Forgive us our sins
as we forgive those who sin against us.
Lead us not into temptation
but deliver us from evil.
For the kingdom, the power,
and the glory are yours
now and for ever.
Amen.
Our final song speaks of that Amazing Grace which is only available in Jesus.
Amazing Grace (My Chains Are Gone)

Simon Benham (speaks over instrumental, instrumental to continue for 2 minutes)
The LORD bless you and keep you: The LORD make his face to shine upon you, and be gracious to you: The LORD lift up his countenance/face upon you, and give you peace.
Band playout
Broadcast