Main content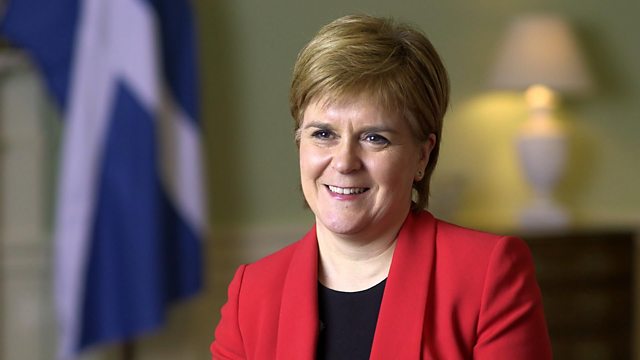 How two polls, one public and one secret, suggested Scotland would vote for independence and the panic that changed the final days of the 2014 Indyref.
On Friday 4 September 2014, less than two weeks to referendum day, Nicola Sturgeon was trying to learn the results of a new poll to be published in The Sunday Times. The editor of the paper's Scottish edition, Jason Allardyce recalled: "I was pretty much locked in a room at the end of this briefing and kind of interrogated by Nicola." A point Nicola Sturgeon denies: "I didn't lock him in any room - I may have barred the door so that he couldn't get out of the room." Yet all that Allardyce would concede was that the poll was 'interesting'. It would be another 24 hours before the news broke that, for the first time, Yes had taken the lead: 51 to 49. Alex Salmond was on the golf course, taking a rare break for a couple of hours, when his chief of staff Geoff Aberdein called to break the news. Salmond reflected that if the poll had been published the next week, just a few days before referendum day, the momentum could have pushed Yes over the line. The response in the UK government was, as Ruth Davidson, leader of the Scottish Conservatives, remembers: "overwhelming panic."
On the Sunday morning Osborne, the prime minister, who was at Balmoral with the Queen, and their advisers spoke on a conference call. The decision was made that Osborne, who was to appear on the BBC's Andrew Marr Show, would offer additional powers to the Scottish Parliament in a bid to halt the momentum of Yes but Davidson felt it was a mistake. The decision was also made to cancel Prime Minister's Questions and send all three party leaders to Scotland. In addition the Labour Party also sent a trainload of MPs to Glasgow for a huge rally, but instead their arrival became a viral hit for Yes.
This episode explains how, in the wake of The Sunday Times poll, the BBC decided to pull their referendum correspondent Allan Little off the daily news beat to make a last-minute Panorama and he was replaced by Nick Robinson, the political editor. A news report by Robinson sparked claims of bias by the BBC and led to a protest march to the offices of BBC Scotland. All the major players reflect on the powerful emotions at play as the intense campaigning came to an end and the votes were cast on the historic polling day.
More episodes
Next
You are at the last episode
Credit
| Role | Contributor |
| --- | --- |
| Executive Producer | Michael McAvoy |