Main content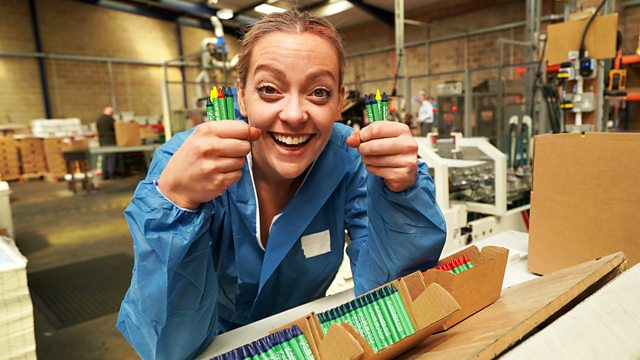 Pencils
Gregg Wallace is in Germany at a historic pencil factory where they produce 600,000 writing implements a day.
Gregg Wallace is in Germany, at a historic factory which produces 600,000 pencils a day. At materials intake he is astonished that the main material in a pencil is not lead, but graphite. He helps mix this with clay to produce a 250-kilo batch – enough for 200,000 pencils. He also discovers why these pencils are hexagonal - because it stops them rolling off the table. And he performs an unusual quality check by throwing his finished pencils from a 25-metre-high tower. When they are chopped open the leads are still intact.
Meanwhile, Cherry Healey is at Manchester University examining the astonishing properties of graphite. She discovers that this highly conductive form of carbon is also able to withstand temperatures up to 3,000 degrees Celsius. More surprising still, if you strip a single layer of atoms from its surface, you produce an entirely new material known as graphene. Thin and virtually invisible, embedding this in our phone screens could mean that in future we could simply roll them up. She is also investigating the science behind graphology and asking if we can evaluate personality from handwriting style.
Historian Ruth Goodman is on the trail of the very earliest pencils in the Lake District. It is a story which begins in the 15th century with the discovery of a huge deposit of pure graphite in the Borrowdale valley. Carved into sticks and wrapped in string, it made a brilliant writing tool. Ruth is also wondering if, in this modern digital age, the pencil is outdated technology. But she finds documents that show the death of handwriting has been prematurely announced on many occasions, dating right back to the invention of the printing press.
Music Played
Timings (where shown) are from the start of the programme in hours and minutes
Credits
| Role | Contributor |
| --- | --- |
| Presenter | Ruth Goodman |
| Presenter | Cherry Healey |
| Presenter | Gregg Wallace |
| Producer | Phillip Smith |
| Executive Producer | Jenny Midl |
| Executive Producer | Sanjay Singhal |
| Director | Michael Rees |
| Series Producer | Amanda Lyon |
| Producer | Phil Stein |
| Director | Phil Stein |