Main content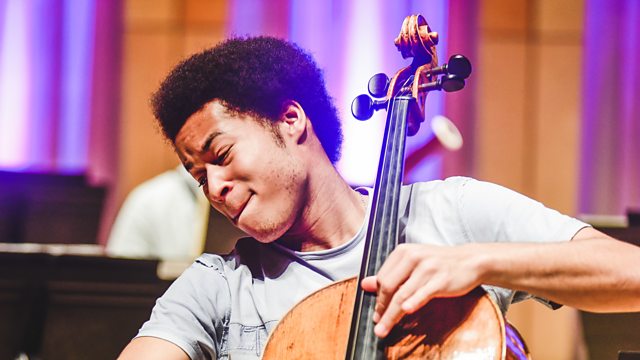 Sinfonia Cymru and Sheku Kanneh-Mason
Sinfonia Cymru are joined by young cello star Sheku Kanneh-Mason for a sparkling programme including Haydn's Cello Concerto No 1 and Beethoven's Symphony No 1.
Sinfonia Cymru match their trademark sparkle to a programme of works that themselves fizz with confidence, drama and vitality. They are joined by young cello star, Sheku Kanneh-Mason, fresh from his Royal Wedding performance and chart-topping debut album, to perform Haydn's first Cello Concerto. Later in the programme, composer Charles Ives attempts nothing less than solving the riddle of life, the universe, and everything, in his extraordinary six minute piece,The Unanswered Question. Their concert begins with C.P.E. Bach, whose music is daring and brimming with passion, and they finish with Beethoven's musical announcement to the world that he might just be the greatest symphonist of all time.
Presented by Nicola Heywood Thomas from the Riverfront, Newport.
C.P.E. Bach: Symphony No. 1 in D major H 663
Haydn: Cello Concerto No.1 in C
Ives: The Unanswered Question
Beethoven: Symphony No.1
Sheku Kanneh-Mason, cello
Sinfonia Cymru
Jonathan Bloxham, conductor
Producer: Chris Taylor for BBC Wales
Photo: Sheku Kanneh-Mason (credit Sinfonia Cymru / Kirsten McTernan)