Main content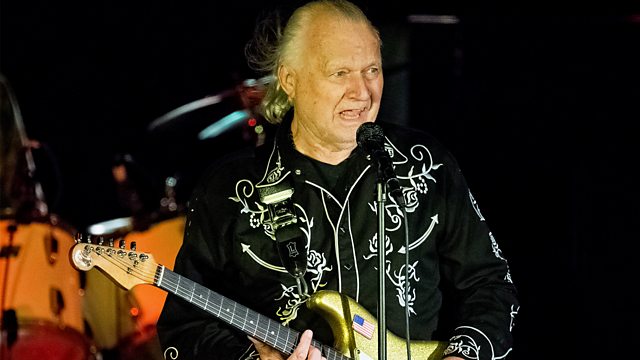 Gillian Freeman, Sir Peter Hutchison, Sister Dorothy Bell, Dick Dale
Matthew Bannister on writer Gillian Freeman, botanist Sir Peter Hutchison, nun Sister Dorothy Bell and guitarist Dick Dale.
Pictured: Dick Dale
Matthew Bannister on
Gillian Freeman, the novelist and screenwriter whose books include The Leather Boys, a story of a gay love affair between two working class men in the 1960s.
Sir Peter Hutchison who travelled to remote parts of the world to collect rare plants.
Sister Dorothy Bell, the nun who after a career devoted to education, turned her attention to AIDS awareness.
And the King of the Surf Guitar Dick Dale.
Interviewed guest: Michael Arditti
Interviewed guest: Edward Thorpe
Reader: Mathilda Thorpe
Reader: Harriet Thorpe
Interviewed guest: James Hutchison
Interviewed guest: Simon Milne
Interviewed guest: Sister Dr Bernadette Porter
Interviewed guest: Emma Cole
Producer: Neil George
Archive clips from: Woman's Hour, Radio 4 22/03/1978; In Search Of The Golden Pleione, Radio 4 30/04/1982; Losing the Habit, Radio 4 29/04/2009.
Last on

Clips

Gillian Freeman
Born 5 December 1929; died 23 February 2019, aged 89.
Last Word spoke to author and critic Michael Arditti, and her husband Edward Thorpe.
Sir Peter Hutchison
Born 5 June 1935; died 20 January 2019, aged 83.
Last Word spoke to his son James Hutchison, and Simon Milne, Regius Keeper of the Royal Botanic Garden Edinburgh.
Sister Dorothy Bell
Born 8 September 1924; died 6 March 2019, aged 94.
Last Word spoke to fellow nun Sister Dr Bernadette Porter, and AIDS awareness campaigner Emma Cole.
Dick Dale
Born 4 May 1937; died 16 March 2019, aged 81.
Broadcasts