Main content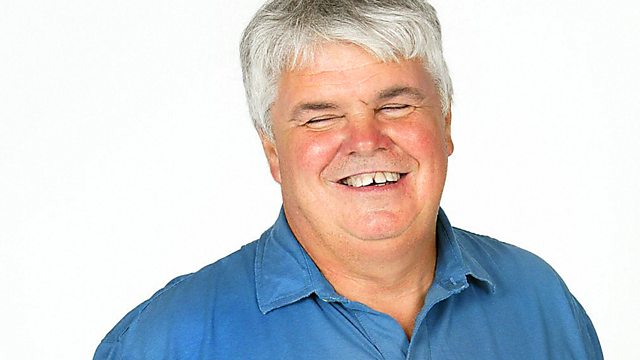 Trial of Driverless Vehicles
Lucy Edwards takes a look at Charity Blind Veterans UK's trial of driverless pods. Plus Peter White visits Roy Symons who lives alone and still cooks for himself, aged 100.
Driverless vehicles are being tested at the moment but at the Blind Veterans UK Centre in Ovingdean, Brighton, a six month trial for the use of visually impaired people has just got underway. Reporter Lucy Edwards went to find out what some of the blind veterans think of them.
Roy Symons is turning 100 on Friday. His secret to a long life? Keep organised, keep your independence and have a tot of something strong each day. Peter White visits him in his home in Harrow to toast him on his birthday.
Presenter: Lee Kumutat
Reporter: Peter White
Reporter: Lucy Edwards
In Touch Transcript: 19-03-19
Downloaded from www.bbc.co.uk/radio4
THE ATTACHED TRANSCRIPT WAS TYPED FROM A RECORDING AND NOT COPIED FROM AN ORIGINAL SCRIPT.  BECAUSE OF THE RISK OF MISHEARING AND THE DIFFICULTY IN SOME CASES OF IDENTIFYING INDIVIDUAL SPEAKERS, THE BBC CANNOT VOUCH FOR ITS COMPLETE ACCURACY.
IN TOUCH – Trial of Driverless Vehicles
TX:  19.03.2019  2040-2100
PRESENTER:           PETER WHITE
PRODUCER:             LEE KUMUTAT
Street noises
White
Now, I'm probably in trouble because I'm approaching Roy's house and I'm late and I think he might be a bit of a stickler for timing, which when you're nearly 100 you've probably got every right to be. 
Door bell
Producer
He's got a sign on the door that says "ring bell, please wait, slow mover".
White
[Laughter] Ah.
Symons
Is this Peter?
White
Roy! 
Symons
Do come in.
White
How are you?
Symons
Oh, on the table there is something for you.
White
Really?  What's that Roy?
Symons
It's called the Eye Test and I wrote that many years ago, it's a poem, the Eye Test, but that's a copy and it's in all sorts of places and I know that it's reached America.
White
Has it?  You said you had something for me but that's all wrong because it's your birthday coming up, so, I've got a present for you.
Symons
Oh.
White
This is an early 100th birthday present.  So, if you put your hands out, I bet you know what that is.
Symons
Oooh and I've got a feeling you couldn't have a chosen anything better.  I should explain.  The only sight I've now got, left eye completely dead, right eye down to about 2%.  Le Frog, it's my favourite.
White
Well no, I think you told us you like whisky but my favourite is what you call Le Frog as well, so I took a chance.  Very happy birthday when it comes along.
Symons
Thank you very much.
How I found out my sight was going I was driving down the motorway and found that I was drifting to one side.  I had been to the optician the previous week and I went back and I said – I think there's something with the glasses which I then wore.  He looked at me, he said – I want you to go to hospital right away.  And I was certified blind right away.
White
What was the condition Roy?
Symons
Wet macular.
Kumutat
Yes, Roy Symons has Age Related Wet Macular Degeneration which affects around 70,000 people in the UK.  We'll hear more from Roy on how he structures his life in order to manage cooking for himself and living by himself as he approaches his 100th birthday on Friday.
But now to our other roving reporter this week.  Lucy Edwards went to the Blind Veterans UK centre at Ovingdean near Brighton where a trial of self-driving vehicles or pods, as these are being called, is taking place over the next six months. 
Like Roy Symons, 89-year-old Annie seems up for the challenge.
Edwards
Annie, how do you feel about going in the pod today?
Annie
I'm looking forward to it with great trepidation.  I was so sad that was – other than seeing to read and sew and knit and that – driving my car was the biggest blow, I couldn't drive, I couldn't jump in it and go where I wanted and come back when I wanted.  I'm looking forward to this.  I know it's too late for me but I'm looking forward to the trial.
Woolet
My name's Dave Woolet, I'm an ex-veteran.  I was with the Royal Engineers.  And so, I've got a guide dog Jasper. 
Edwards
Do you feel as if you lost your independence when you couldn't drive?
Woolet
Yeah, you do, you lose – it's a big kick to yourself, knowing that I've always been independent, you're [indistinct words], but you always drive around, I've had motorbikes, I've had cars, I've driven lorries and all sorts.  So, yes, it affects you to stop, it really does because you do lose your independence.
Edwards
In terms of mobility, how do you think these pods would improve your life?
Woolet
It's a scary notion, it's a scary thing to think about, knowing you're not in control.  I think because I can get about quite fully, I know me own buses, I know me own trains but how these pods are, whether they're remote controlled or whether there's no driver there, I don't know until I get in it how I'm going to feel, what's the safety like – can it go wrong, will it cause an accident, is it that safe that it will work?  I'm sure that loads more tests on it will make it work.
Edwards
The centre in Brighton is a hub of activity that specialises in rehabilitating blind ex-servicemen and women.  It's a huge building with 85 bedrooms with an onsite swimming pool and gym.  Starting at the main entrance the pod travels along the driveway, having to negotiate oncoming vehicles and traffic.  A trip around the grounds takes 15 minutes.
Gomez
I am Renata Gomez and I'm the head of reception and innovation of Blind Veterans UK.
The centre is very interesting to develop this technology because there's a very dynamic and busy area.  So, where we have normal cars, we've got deliveries, we've got ambulances coming in and out, but we also have a very special population here, we have the blind veterans.
Edwards
Aurrigo, the company making these pods, have been developing them for five years.  People may be aware that similar ones are being used in Milton Keynes to ferry shoppers to and from the city centre.  And although this trial is the first with visually impaired people they are still not allowed to drive in the pod by themselves.
Fairchild
I'm Richard Fairchild and I'm operations director for Aurrigo.  So, currently we have a safety driver inside the pod and that's really about ensuring that the pod is safe for you as a passenger and also for the rest of the people in the environment that the pod's operating in.  However, this was really a carry-over from government policy about how to test autonomous vehicles.  But there was recently a revision of this policy about testing autonomous in public spaces and the requirement to have a safety driver in the vehicle is no longer present.  And so, what we're working in is moving that safety driver into a remote position.  So, the idea is that the one safety driver could then look after several vehicles remotely and of course what that does is it changes the economics, which means that you can run more vehicles.  And so, at that point in time, it will very much be you can go to the pod, get in the pod and it will take you to where you want to go.  But to assist you in enabling the pod to tell it where to go, is really quite a challenge.  So, for example, we're doing a lot of work with natural language processing, you get in, there's nobody else in there, you ask it – tell it where you want to go – it takes you there, you get out and then eventually you'll forget that you're in an autonomous pod, it'll just be – oh I just need to go and get some lunch. 
I guess the main difference about our pods is that we've never targeted it as on-road vehicle.  So, currently we're limiting the top speed to about 15 miles an hour, so we're not on public roads.  It's trials like this, at Blind Veterans, that mean that people get to use a pod on a daily basis and they start to see that actually, do you know what, this isn't scary technology, this is just another form of transport, just like a bus, and I suspect that as we go forward in time you'll see that our vehicles will become more prevalent before you get on highway vehicles.  So, really, I think that this sector, this first and last mile off highway sector will come first.
Kumutat
There'll be many people listening to this relieved to hear they'll be off the roads for quite some time yet.  But how are Roy Symons and Peter White getting on?
White
Roy, the reason that we've come to see you is partly to wish you happy birthday and also, I mean what we're told is that you actually live still very independently, you do a lot of things for yourself.
Symons
In 2000 I regretfully had to put my wife into a home because of Alzheimer's and I had to learn and teach myself to cook.  So, I've taught myself how to cook and I've been cooking ever since.  I make up some of my own menus, I eat a lot of fish but I do go out twice a week, once on a Wednesday, I go shopping into an extremely good Waitrose nearby, I just ring them up before I go and I say it's Roy, okay Roy we'll have somebody to take you round.  Which is very nice.  And then I go to one of three or four restaurants where they know me very well and I have my own table in each restaurant.  My tot of whisky appears and a drop of wine and they read out the menu for me.  I'm well known there.
White
So, you're probably quite a well-known figure generally around here are you?
Symons
Yes, I suppose locally here I'm known as Roy up and down the road.  I can't get out and walk down the road at all now, I have to have somebody take my arm when I go and I have a stick, just a white walking stick. 
White
But you obviously value your independence?
Symons
I do very much indeed, I'm very independent.  On Sundays I do a roast, which can be anything from a bit of roast lamb, pork, beef or even duck.  That, at the moment, has taken me a very long time and I've been trying to find a volunteer to help me on a Sunday.
White
I tell you what I'd like to do Roy, it would be nice to just show us how you've got your kitchen organised.
Symons
Yeah.
White
Could we do that?
Symons
The kitchen's round on the left.
Now we'll start here.  Peter?
White
Yes, I'm over here.
Symons
Now don't press anything.
White
I won't.
Symons
Just feel your way round to here.
White
Yeah, yeah, so this is your microwave.
Symons
I'm going to give it 30 seconds.  I'll look inside, yes, I can just see a light in the side.  When I cook in the microwave I start off on Monday morning, I have tomatoes and bacon, cut the tomatoes up and the bacon;  Tuesday – oh yes I have a poached egg on Tuesday, in the microwave.  Wednesday's I'm out, as I've already told you.  Thursdays I go to Rotary.  We'll come back to Friday – tomatoes again.  And then Saturday is a scrambled day on toast, here, that's my fridge and in there I've got a tray down the bottom, plenty of fresh greens in there.
White
Have you got chocolate in your fridge Roy?
Symons
Yes, that's for the kids that come.  I've got eight – eight great grandchildren.
White
Do you do desserts as well for people, do you do puddings?
Symons
Oh yes.  Very important puddings.
White
But can I just ask you – there's a lot of work in a roast dinner Roy.
Symons
I've worked out on Sunday that I start my lunch about half past 10 and I didn't finish till nearly 3 o'clock, by the time I get it all going and that, yes.
White
Is this just cooking for you or do you have people round?
Symons
No, I never have…
White
No?
Symons
…never have anybody in to cook for, no.
White
But it's a lot – so you go to a lot of trouble, don't you, to do that properly on a Sunday.
Symons
Yes.
White
But it sounds to me as if you still want to go on doing these things for yourself.
Symons
I do.  I'm determined.
Kumutat
I could do with being as organised as Roy myself.  Meanwhile Lucy Edwards is about to go for her first spin in a self-driving pod.
Edwards
I'm here just outside the pod at Blind Veterans UK centre in Ovingdean Brighton and the coast is really windy today and we're about to go and jump in some self-driving pods.
The pod that will be transporting the blind veterans around their centre has been called Arthur, named after the founder of Blind Veterans UK, Sir Arthur Pearson.  The pod is two metres tall and seats four people.
The sound that you can hear is the sound that the pod makes at its top speed of 15 miles per hour.  This is to alert pedestrians that it's nearby. 
Miles Garner, sales and marketing director for Aurrigo, showed me how to climb aboard.
Miles, could you talk us through the visuals of how to open the pod and what it looks like?
Garner
Yeah, it's a really, really easy operation.  There's a button on the front which we just have to press and that opens up the door.  And then after the door is open, we can then access inside the pod.
Edwards
So, as I'm getting in it's quite a big space.  How do you first input the location, so the pod knows where you want to go?
Garner
We are working on an app that will allow you to book a ride.  We are like a way off from commercially sort of offering that to anyone to operate.  As actually part of the trial we are just limiting the route to round about up to four routes around the campus.
Edwards
And how is it accessible inside for VI passengers?
Garner
Inside the pod at the moment there's light colours on all the rails, and all the rails are yellow, all the edge, also like the seats are yellow as well.  There's lighting inside in the roof and lighting also on the corners as well.
Edwards
Why is there not more audible signals for them to plug in their destination inside the pod?
Garner
The whole reason why we're actually doing this as a trial and it hasn't really actually started is to actually get that type of feedback.  So, we've been working over the past couple of months with actually Guide Dogs, that's the reason why there's lots and lots of light inside, lots and lots of yellow in areas, so that was information actually feed into us.
Edwards
I felt that the pod was quite comfortable and there was definitely enough room for my guide dog to sit at my feet.  However, I do feel there needs to be audible announcements inside the vehicle and that is the biggest drawback for me.  But I really wanted to know what the residents thought.
Threadgold
My name's Mark Threadgold, I'm 51 and I'm totally blind, I have severed optic nerves.  I did 17 years in the Army, in the Royal Signals, I was an electronics engineer, radio tech. 
Edwards
Did you used to drive when you had your vision?
Threadgold
Driving was a big thing for me, it's the thing I miss the most.  I used to have a little sports car that I raced, I was a HGV driver and a motorcyclist as well.  So, driving I've missed enormously.
Edwards
And have you been in the pod today?
Threadgold
I was the first one in the pod this morning, they tell me, so that's quite a privilege isn't it?
Edwards
Lovely.  And how did you find it?
Threadgold
It was interesting, very quiet being electric and a bit disconcerting because the two seats are facing each other.  So, you haven't got a front and back, so to speak.  Getting in that was fantastic because as an electronics engineer by trade and I was a bit of a classic car fan as well, well there you go, both things are in that aren't they.  I think it'll be great for independence.  The day one of us could, totally blind, jump in a car and get dropped off at the place you actually want to be at instead of having to learn the route from a bus stop, yeah fantastic.
Edwards
Do you have any things that you think that they can improve on in the pod?
Threadgold
Speaking to the guys about the design they're trying to look at inclusive design right from the start and the way they described it was – if you can make it work for the most difficult person, for want of a better word, then it'll work for everybody else.  So, for me, I'm looking at things like audio tags to tell you where you are, what you're passing.  How long it's going to be till you get there.  The feedback, when you're totally blind, is hugely important.
Edwards
Were you satisfied today that you got that?
Threadgold
Yeah, we just went down the hill, to the bottom, it's not a talking pod just yet but I'm sure it's going to be at some point.  Yeah, good experience.
Edwards
I think the pods have a long way to go as they're still only at their trial period at the moment but I think, as a blind woman, eventually in the future I will jump in one of these and hopefully get to my destination completely independently.
Kumutat
While some of us might be looking forward to the day we can hit the open road, Roy Symons has a party to prepare for.  And it's put him in reflective mood.
Symons
I'm afraid I counted up 70, 80, 90 people that are no longer with me, there's only one person that's been in my life, she's 91 and she's the widow of one of my good friends. 
White
You have set them rather a tough target, haven't you, by living to 99 and almost 100?
Symons
Yes.  We're going to have a big party – family party only.
White
I think we can't go, Roy, without toasting your birthday, that's why I brought you our present from In Touch, so shall we – are you going to do the honours?
Opening and pouring drinks
It's one of the best sounds in the world.
Symons
We'll chink the glasses.
White
Well Roy, many, many, many happy returns.
Symons
Thank you very much indeed.  Thank you for coming.  I'm amazed, as people say they're amazed with me and that but I'm amazed with myself sometimes.  But there you are.  Well cheers.
White
It's delightful to have met you and to see how well organised you are.  Cheers Roy.
Ooh that goes down well doesn't it.
Symons
I've got to sip that, yeah.