Main content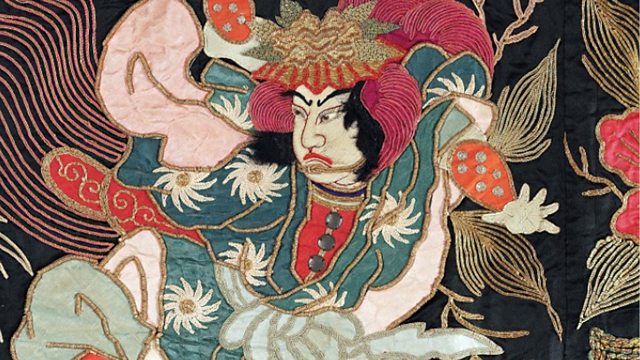 Kimono
Was this vibrant robe worn by a Japanese courtesan? Cathy FitzGerald visits the floating world to find out.
Cathy FitzGerald invites you to discover new details in old masterpieces, using your phone, tablet or computer.
Each thirty-minute episode of Moving Pictures is devoted to a single artwork - and you're invited to look as well as listen, by following a link to a high-resolution image made by Google Arts & Culture. Zoom in and you can see the pores of the canvas, the sweep of individual brushstrokes - or in this case, the pull and pucker of every stitch.
In the last programme of the series, we pay a visit to Japan's floating world. The collection of the Victoria and Albert Museum contains a very unusual uchikake, or outer kimono, which features embroidered scenes from a kabuki play. The design includes stunning golden shishi (mythical lions), vibrant peonies and characterful figures with glass eyes and actual hair, taken from an animal.
But the robe is something of a mystery. Was it made for an actor? Or a courtesan, perhaps? Either way, it belongs to the floating world - a fantasy land of ritualised pleasure and entertainment which had a much darker, seedier side.
Interviewees: Anna Jackson, Andrew Gerstle, Paul Griffith and Lesley Downer.
Producer and Presenter: Cathy FitzGerald
A White Stiletto production for BBC Radio 4
Kimono (c) The Victoria & Albert Museum, London.