Main content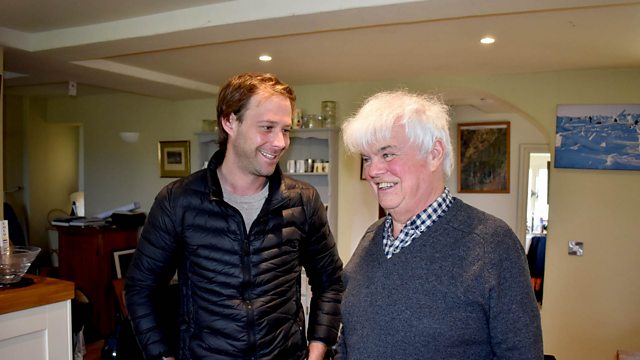 Guy Disney
Peter White, blind since birth, talks to amputee jockey Guy Disney, who is helping other wounded ex-servicemen to rebuild their lives.
Guy Disney was on his second tour of Afghanistan and serving as Captain with the Light Dragoons in Helmand Province when he was caught in an ambush which changed his life. During a 10-day period which claimed the lives of 11 British servicemen, Disney's vehicle was out on patrol when it was hit from the side by a rocket-propelled grenade.
He tells Peter that his life was saved by the quick action of those with him, who put a tourniquet on his leg to stop the bleeding. He was airlifted to a field hospital, where he had his first operation – just 24 hours later he was flown back to the UK for further surgery.
In the immediate aftermath he was intent on recovery and determined to get used to life with a prosthetic leg as quickly as possible. His initial hopes centred on being able to return to Afghanistan: "I think I had in the back of my mind that I wanted to go at things as if nothing had changed.
"I remember saying to a consultant I want to re-join the guys and I remember starting to train, putting on a back pack and walking for miles. My leg was raw, I physically exhausted - it was odd feeling and it made me realise that wasn't going to happen."
Instead Guy turned back to horse racing, which he'd always loved: "The racing for me is a complete drug, I'm absolutely addicted to it - going over an obstacle at thirty miles an hour on half a tonne of animal is the most astonishing feeling in the world. Going on a horse over a fence, that's where the real point of elation is."
But when he applied for his jockey's licence in 2010 he was turned down by the British Horseracing Authority: "They had concerns that I'd get the prosthetic stuck or if my foot slipped out of the iron I wouldn't be able to get it back in as I couldn't feel it. It was a shock as I hadn't thought up to that point that the injury was going to change my life."
He vented his frustration by signing up for Prince Harry's Walking With The Wounded trek to the North Pole. It marked the start of Guy's long lasting commitment to help injured ex-servicemen and during the preparations he met David Carey, a doctor training to be a barrister, who offered to help challenge the BHA decision.
After months of work and with the help of Toe Stoppers, stirrup irons where the foot is prevented from slipping forward, they eventually managed to overturn the BHA decision and he was free to race again. In 2017 he won the Royal Artillery Gold Cup at Sandown Park and last year he became the first amputee jockey to ride over the Grand National fences in the Foxhunters' Chase at Aintree.
"I always get quite nervous before the racing and then the moment you're sat on the horse you're set into the race you can't change anything, you get down to the start and what will be will be. It's a feeling of complete contentment."
Alongside the racing Guy is committed to several charities and worked with disadvantaged youngsters in Nottingham through the Royal Foundation. The role included building relationships that could help engage them and build up skills and training.
As a trustee at Walking with the Wounded he has been asked to help oversee a project in Zambia and is training rangers who encounter many dangers. "There are some key areas I've got funded to trial through the Royal Foundation and Walking With The Wounded, where we take teams of servicemen and women to help.
"Stopping medical bleeds is a big priority and we can teach them how to use a tourniquet. The moment something happens out there you have sixty seconds if you want to stop arterial bleed. Giving them the skills can help save many lives."
Last on

Broadcasts